This ain't your mama's sugar cookie round-up!
I've pulled together cookies inspired by the scents and spices of the season.
Be sure to check out the rest of our easy cookies recipes, too!
Happy baking 🙂
And to keep you busy with cookies all holiday long, visit these other mouth-watering round-ups:
And to keep you busy with cookies all holiday long, visit these other mouth-watering round-ups:
Christmas Sugar Cookie Recipes
Chocolate Rum Snowballs | Roxana's Home Baking
These cookies are mounds of rich, buttery self-indulgence.
They don't have the texture of traditional Mexican wedding cookies, but they'd definitely be in the wedding party.
Holiday Checkerboard Cookies | Authentic Suburban Gourmet
These checkerboard cookies are light, beautiful and incredibility tasty (and addictive).
Get ready for a simple Coconut Macaroon Recipe that is chewy on the inside, crunchy on the outside and naturally gluten-free!
Perfect Gingerbread Cookies Recipe
Gingerbread is the stuff holidays are made of. Can you just smell this nostalgic Gingerbread Cookies Recipe?
Linzer Cookies with Spiced Jam
These light and delicious Linzer cookies with a spiced jam recipe will delight and surprise at how difficult they look, but they are really not that hard to make.
This Snowball Cookie Recipe bakes cookies that are crisp on the outside and soft on the inside, and with a hint of coconut added to the frosting, your senses might think you've been transported to a tropical beach.
Gingerbread Scones | Created by Diane
These gingerbread scones are lightly flavored with molasses and spices but not the real heavy gingerbread taste that kids seem to turn up their noses at, no these are well liked by the little ones.
Crunchy Frostbites| Plain Chicken
Crunchy Frostbite Cookies – delicious oatmeal cornflake cookies dipped in almond bark.
2 Ingredient Pumpkin Cookies | Cookies & Cups
These 2 Ingredient Pumpkin Cookies are simple and delicious. They're also lower in calories…as long as you don't frost them!
Make with the new, seasonal JELL-O Gingerbread pudding mix!
Almond Cinnamon Stars | Almond Corner
Zimtsternen is a true Swiss recipe packed with cinnamon.
Sparkly Vanilla Bean Macaroons| Kevin & Amanda
These decadent Vanilla Bean Macarons are topped with gorgeous edible glitter for a completely magical, festive holiday treat.
Sugar Cookies – Rubber Stamps| A Party Style
How about a pretty Christmas tree stamp for Christmas dinner?
Chewy Coconut Lime Sugar Cookies | The Girl Who Ate Everything
Chewy Coconut Lime Sugar Cookies are super soft and chewy rolled in sugar for a slightly crispy edge.
Colorful Spiral Cookies| Sprinkle Bakes
Just try to be in a bad mood around one of these. Impossible!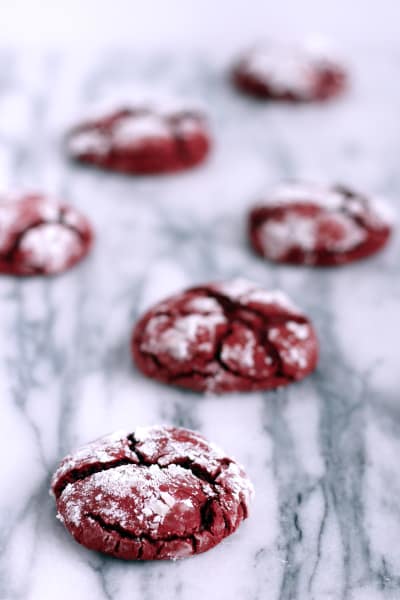 Red Velvet Cookies | Food Fanatic
Easy Red Velvet Cookies are perfect for holiday cookie swaps. You'll love the festive colors, and how easy they are to make!
Traditional Pacific Coconut Cookies| Life Currents
These Tropical Pacific Cookies (aka homemade or copycat Girl Scout Samoas or caramel delights) are awesome! They don't really taste like their packaged cousins. They taste better!
Peanut Butter Sandwiches | Tastes of Lizzy T
Soft, peanut butter sandwich cookies filled with a sweet peanut butter cream. These bite-size cookies from Amish country are perfect for gift giving.
Cookie Butter No Bake Cookies | Living Better Together
These Cookie Butter No Bake Cookies are a fun twist on the classic recipe we all grew up with! Made with delicious cookie spread, butter, sugar, and oatmeal!
Pumpkin Snickerdoodles| Seeded at the Table
These are much puffier and softer than the usual snickerdoodles.
Sand Dollar Cinnamon Sugar Cookies | Mama Miss
Do you love sand dollars as much as me?! Try these easy to make sand dollar cinnamon sugar cookies – that look just like the real thing! Yummy & perfect!
Caramel-Stuffed Apple Cider Cookies | Scrambled Henfruit
These cookies are best enjoyed slightly warm, either from sitting atop your tea mug or microwaved for a few seconds.
Cinnamon Chip Shortbread Cookies | Barbara Bakes
Use a Christmas tree cookie cutter instead of a round one and dress them up with a powdered sugar glaze and sprinkles.
Sugar-Topped Molasses Spice Cookies | Amanda's Cookin'
These cookies is how they are soft and chewy, not hard and crunchy. They are full of flavor yet not overpowering.
These delicious sugar cookies can be customized for any holiday or event to match your theme!
Soft Molasses Sandwiches| Can't Stay Out of the Kitchen
Soft Molasses Sandwich Cookies are some of the richest, most decadent cookies you will ever eat!
These luscious cookies are filled with spices like ground cloves, ginger, and cinnamon which add a really deep flavor to the cookie when coupled with the molasses and brown sugar.
Spiced Cider Meltaways | Momtastic
Spiced like a mug of hot cider and covered in snowy powdered sugar, these Spiced Cider Meltaways are the perfect cookie to leave for Santa.
Gingerdoodles | Bakergirl
You can't not make gingersnaps or snickerdoodles at Christmas. It's like a thing.
Eggnog Thumbprints | The Life & Loves of Grumpy's Honeybunch
Eggnog Thumbprint Cookies are a soft cookie base with creamy eggnog flavored filling. They make a festive addition to your holiday cookie tray.
Easy Coconut Macaroons| The Kitchn
Crunchy on the outside and chewy in the middle, a good coconut macaroon is an irresistible thing.
Soft Shortbread Cookies | Swanky Recipes
Soft Shortbread Cookies are "melting moments" which is a biscuit type cookie in the UK.  They are expected to be crunchy and crumbly but melt in your mouth at the same time.