50 Elf on the Shelf Ideas – Get Creative and Fun This Year!
Get inspired with these creative Elf on the Shelf ideas!
I have to admit it. In years past we have not been that creative with our Elf on the Shelf. He has jumped from room to room, and that is about it.
I've often wondered who are these parents who create elaborate scenes with their elves? Do they not sleep?
This year, I'm determined to have a little more fun with this dude. I'm not talking about going over the edge crazy. But I think it's time to mix it up a bit.
So to get me inspired, and hopefully you as well, I pulled together 50 Elf on the Shelf ideas.
3-Piece Lighted Christmas Reindeer Family Set
Christmas Front Porch Sign Set
320 LEDs Dipper Star String Lights
Lighted Winter Garden Flag
Just pick a couple to do this year. Why should the kids have all of the fun? 
This post contains affiliate links.
Get more Christmas inspiration — including Christmas recipes, holiday crafts and children's activities.
50 Creative, Fun Elf on the Shelf Ideas
But not everything was an Elf Fail!
Every week this season, I'm going to share what our elf has been up to.
2 Pack Christmas Porch Light Covers
Jumbo Christmas Pathway Lights
8FT Tall Christmas Inflatable Snowman
Metal Christmas Yard Signs, Set of 3 – Santa, Snowman, Reindeer
And for even more fun things to do with your Elf on the Shelf, check out:
Do you need your own Elf on the Shelf? He (or she) is easy to get. Just click HERE.
The Elf on the Shelf is having fun with the photocopy machine.
The best part is he leaves behind a memento for the kids!
Ah! Time for a spa day for your elf.
Don't forget the loofa and steam out the stress.
Indoor Outdoor Twinkle Christmas Lights
Christmas Window Clings Snowflakes Window Decals
Christmas Set of 3 Lighted Rattan Gift Boxes Decorations
48 Inch Christmas White Luxury Faux Fur Tree Skirt
Morning Coffee | A Few Short Cuts
Why not invite your elf to join in on the morning coffee?
But do marshmallows go with coffee?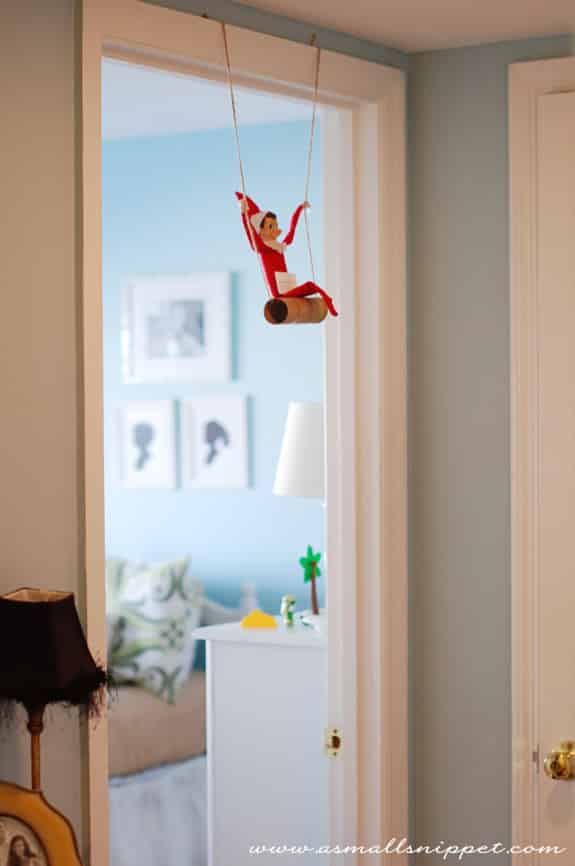 Swinging on Toilet Paper Roll | A Small Snippet
Who wouldn't love an indoor swing?
Great place for the elf to hang out.
We're a Scrabble family!
But look closely at the words the Elf on the Shelf – how fun!
Building Blocks | Snippets from Suburbia
Grab some sugar cubes and have him do a building competition with one of the kid's Barbies.
3pcs Elf Christmas Decoration
Christmas Decorations Christmas Pillow Covers
Christmas Candle Lantern
Christmas Centerpiece with 3 Candle Holders
Marshmallow Bath | Snippets from Suburbia
Elf on the Shelfs like to take baths… in marshmallows.
Get different shaped marshmallows to make the bath more fun.
While the kids are sleeping, the Elf and Barbie are busy exploring the house.
Only the Elf would bring these adorable teeny tiny donuts!
Lounging at the Beach | Home Stories A to Z
Even the Elf needs a day off sometimes.
Help him soak up the sun with a beach vacation.
Being Carried Off | Snippets from Suburbia
Gulliver's Travels come to life!
Have your child's little friends carry off the Elf.
Kids Musical Train Set with Christmas-Themed Music
Melissa & Doug Slice and Bake Wooden Christmas Cookie Play Food Set
Little People Elf Movie Figure Set
Fisher-Price Little People Toddler Toy Musical Christmas Train
Cookies Anyone? | Snippets from Suburbia
Aw. The Elf baked for the family last night… will anyone eat any of them?
LOL. Have the Elf hold class and teach the forest creatures.
School is in session!
Mater and Lightning McQueen Reindeer
The Elf gets caught playing Santa with his very own reindeer 🙂
All you need are some pipe cleaners and imagination.
Who doesn't love making paper snowflakes?
Just don't forget the kid scissors.
Let's not forget the reason we celebrate Christmas with the Elf joining the nativity scene.
LEGO DUPLO Santa's Gingerbread House
6 Pack Christmas Squishy Toys
Christmas Train Set- Around The Christmas Tree with Real Smoke, Music & Lights
DIY Felt Christmas Tree Set
Baby it's cold outside!
Wrap up with a sweater and maybe even a homemade snowman.
Will the kids find him in the freezer?
Lifting Weights | Snippets from Suburbia
Staying in shape is no joke!
With two marshmallows and a toothpick, you can make your own weights for your Elf.
Let Down Your Hair | Snippets from Suburbia
Barbie oh Barbie. Let your hair down!
Are there any Rapunzel fans in your house?
Mirror Mirror on the Wall. Who's the fairest of them all?
Sharing Coffee with a Friend | Snippets from Suburbia
Even Elves need a coffee break and connect with friends.
Starbucks is our favorite!
Fishing | Rocking my 365 Project
The Elf goes fishing with Pepperidge Farm fish.
Do you think he'll catch anything?
Ziplining is all the rage and the Elf wants to get in on the fun!
Attack of the Lego People | Picklehead Soup
Gulliver's Travels keeps popping up.
This time he's strapped down on a Lego board.
But don't worry, he can easily break out.
Tissue Box Bed | Home Stories A to Z
The Elf needs a cozy comfy bed to snuggle up in.
And this tissue box is the perfect place for him to snuggle up with his favorite stuffed animal and catch up on some ZZZs.
In the Car | Patricia's Daughter
The Elf didn't want to be left at home today.
He's making himself comfortable hanging from the rearview mirror of mom's car.
Reading 'Twas the Night Before Christmas | Patricia's Daughter
Everyone needs a bedtime story.
And "The Night Before Christmas" is a personal all-time favorite.
Cleaning Up | A Few Short Cuts
Even the Elf has chores.
Do you think his favorite one is scrubbing out the bathroom sink with a cleansing brush?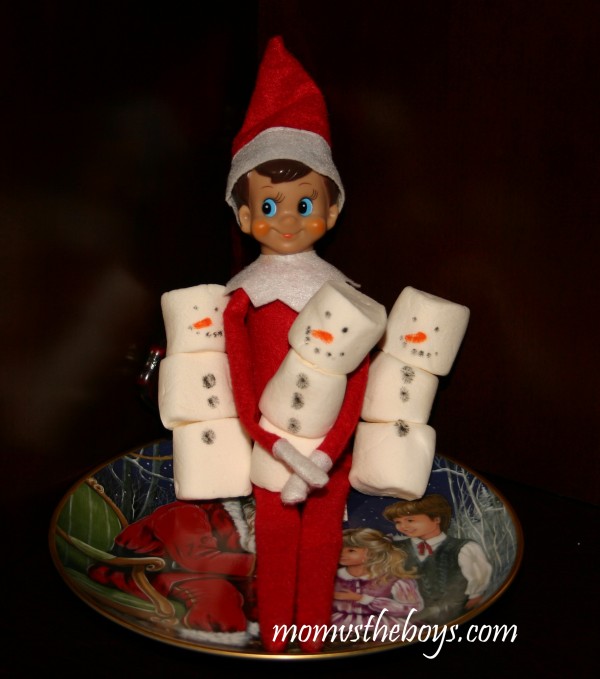 Happy Snowmen | Mom Vs the Boys
Whether you have snow outside or not, the Elf felt like making snowmen.
Use toothpicks to hold the marshmallows together and mark them up with a Sharpie pen.
Drawing on Photos | Snippets from Suburbia
Oh that naughty naughty Elf on the Shelf!
Just be sure not to use permanent marker.
Jousting | Snippets from Suburbia
It's a joust on horses!
I have a feeling the Elf is going to win this one.
Dominoes are such a wonderful game.
And the Elf didn't want to get left out… he's got a good game going.
Elves are curious folks — and she just wanted to try out the Dora the Explorer puzzle.
Can the kids help her finish?
Birthday Balloons | Rocking My 365 Project
Does someone have a December birthday?
The Elf wants to help celebrate your child's big day and brought some balloons for the party.
Getting His Santa On | Rocking My 365 Project
Do you think the kids will know it's the Elf and not Santa???
Who doesn't a night of singing karaoke?
Wondering if the Elf is looking for a date – just look at what he's singing.
What's winter without a little snow?
And kids who love snow love sledding down the hill.
The Elf shouldn't be lonely!
He's all dressed up for date night. And he even brought flowers.
Replace your family's photos with pictures of the Elf.
Watch your kids' reactions!
Sometimes the Elf likes to be outside.
This time he's climbing the trees in the backyard.
The Elf has gotten into the chocolates!
And he's spelled out "Be Good."
Oh the Elf really pooped himself out.
You know he's wiped out when all he wants to do is sleep.
What goes perfect with a movie night?
Popcorn, of course!
Ever wonder where the Elf lives?
Here's the secret entrance to his tiny home!
Need more Elf inspiration? Check out the following affiliate links: