If you're like me, we normally like to buy our unique Christmas wreaths.
But this year, why not take the plunge and make your own!
Will it be a Pinterest success or fail? Either way, it should be entertaining with these unique Christmas wreaths.
Get more Christmas inspiration — including Christmas recipes, holiday crafts and children's activities.
35 DIY Inspiring Unique Christmas Wreaths
To get my creative juices flowing, I started looking at fellow bloggers' wreath ideas.
And now I'm sharing some of my favorites that should get you in the holiday crafting mood.
Quite honestly, if you don't find something that inspires you, you may as well hang up your glue gun!
Burlap Circle Wreath | Little Birdies Secret
If you want to add a little kick, add a simple stick star to your wreath.
Christmas Striped Straw Wreath | Tatertots & Jello
Can you believe this wreath is made from red and white striped straws?
No Sew Linen Wreath | Beautiful Nest
Using linen instead of burlap gives this wreath it's whimsical look!
Birds & Berries Christmas Wreath | Home Trends
Customize you own DIY Christmas wreath with something interested and unexpected – birds!
Wood Slice Wreath | East Coast Creative
A little bit modern and a little bit rustic. The perfect combination!
Monogrammed Boxwood Wreath | Mom 4 Real
Forget the glitter. Go for something fresh and green this year.
Red Berry Monogram Wreath | Our Unexpected Journey
So simple and makes an incredibly nice statement.
Chalkboard Wreath | Homes.com
Don't you just love the idea of a chalkboard wreath because you can make it look like anything you want.
Burlap Christmas Wreath | Craftaholics Anonymous
You can make this Christmas wreath in under one hour and is great for all crafting skill levels.
Peppermint Candy Wreath | Gwynn Wasson Designs
I don't know whether to admire this wreath or eat it!
$6 Wire Hanger Christmas Wreath | Six Sisters' Stuff
Find all of these materials at your local dollar store! This one only took 30 minutes and cost $6!
Recycled Peg Washi Tape Wreath | Oakfield Crafts
If you already have a washi tape wreath made, recycle it by decorating the other side of the clothespins.
Burlap Bubble Wreath | The Pinning Mama
You can make this Christmas wreath in under one hour and is great for all crafting skill levels.
Jello-ish Holiday Wreaths | House of Hawthornes
Can you believe this wreath is made from a vintage jello mold???
Woodland Winter Yarn Wreath | Sew Homegrown
This wreath is simple and inexpensive ($20!) to make, yet it really has a great impact.
Wood Slice & Burlap Christmas Wreath | Finding Home
This wreath can easily be customized to whatever colors and patterns you like.
3D Paper Star Wreath | Little Birdie Secrets
These 3D stars are also great as ornaments. Just glue a ribbon hanger to the back!
Whimsical Christmas Wreath | Susie Harris
According to the designer – this has got to be the easiest wreath ever!
Clothespin Holiday Wreath | Gwenny Penny
Isn't this little wreath so festive? Oh but look-what's it made of? Clothespins.
Rounds Wreath | Mommyapolis
This wreath took about 2 hours to make. It's fun and different, don't you think?
No Sew Wool Scarf Wreath | One Fab Day
All you need is a woolen scarf and a length of ribbon to create this wreath in just minutes.
Anthropology-inspired Pom Pom Wreath | Restoration House
Just wrap some yarn around hour fingers, tie a knot, cut the ends and voila.
Peppermint Wreath | My Love 2 Create
Anyone can make this wreath, even the kids (with supervision, of course)!
Popsicle Snowflake Wreath | The Ballard Bunch
So easy but makes a huge statement that pops!
Pinecone Wreath | Do It Yourself Divas
You already have most of the materials to make this pinecone wreath!
Rustic Christmas Berry Wreath | Florence Finds
If you use fresh materials this wreath will look good for a couple of weeks. Just keep it somewhere cool.
Finger Knitted Christmas Wreath | Recaptured Charm
What a unique idea – to finger knit the covering of the wreath!
Silver Leaf Christmas Wreath | Live Love DIY
Make your own DIY leaf wreath using some faux leaves, rub n buff, and a styrofoam wreath form.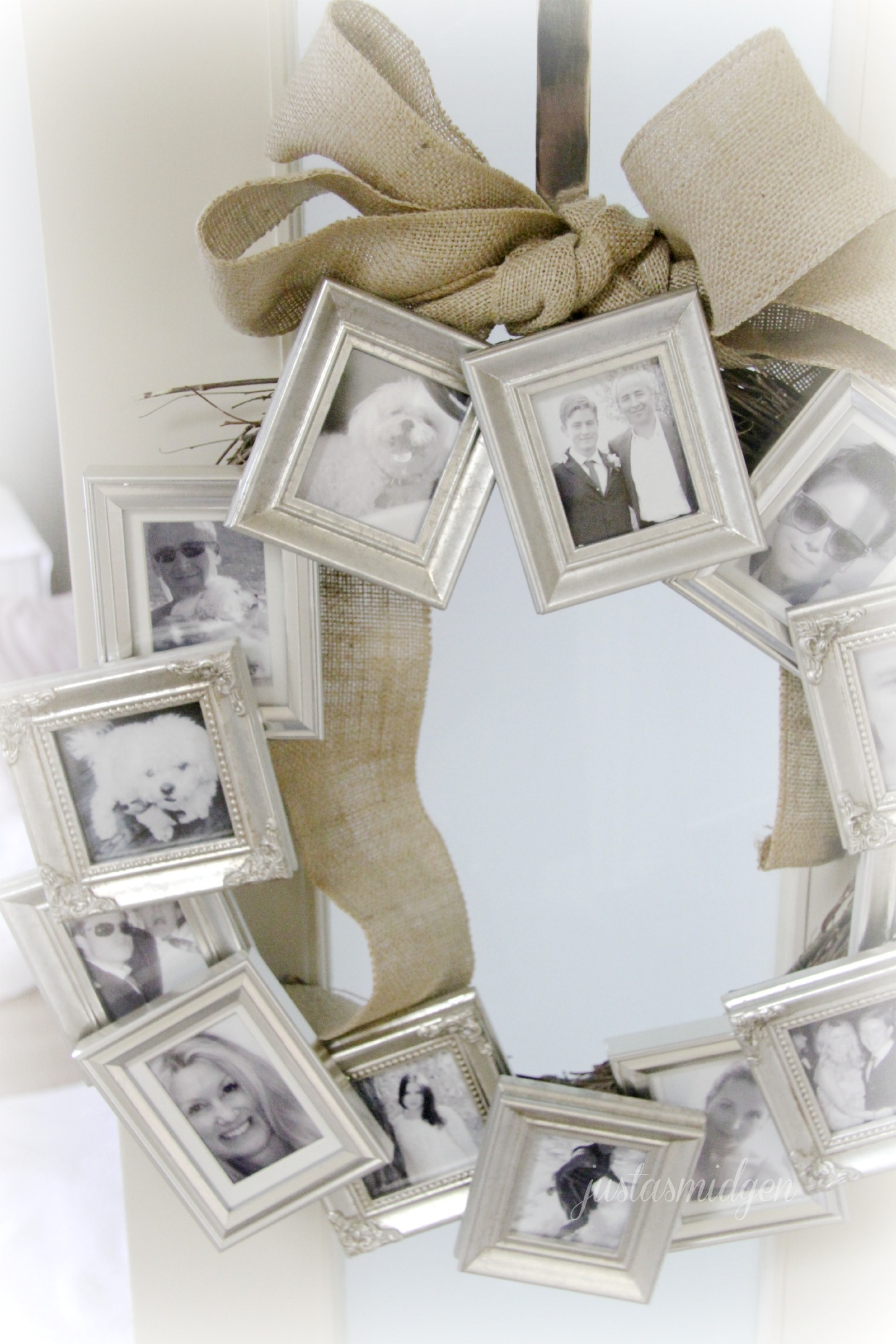 Vintage Photo Christmas Wreath | Just a Smidgen
This vintage photo Christmas wreath is a nice change from those large memory frames. And the possibilities are endless.
Gold Thumbtack Holiday Wreath | Canadian Family
Abandon the traditional Christmas wreath and create one that is both modern-looking and easy to make.
Burlap Christmas Wreath | Sew Dang Cute
Mini Christmas Wreath | Vibrant Serenity
Coffee Filter Ornament Wreath | Thrifty and Chic
Coffee filters! Who knew!