Creamy Blue Cheese Dressing
Homemade Blue Cheese Dressing is a classic and indulgent condiment that brings a rich and tangy flavor to any salad or dish. Don't you just love making your own Salad Recipes at home?!
Made with a creamy base and crumbled blue cheese, this dressing offers a perfect balance of sharpness and creaminess.
The distinct flavor of blue cheese shines through, adding a delightful depth and complexity to your culinary creations.
This post contains affiliate links.
Whether drizzled over a crisp salad, used as a dip for vegetables, or spread on a sandwich, this dressing elevates the taste experience to new heights.
By preparing it at home, you have full control over the ingredients, allowing you to customize the dressing to your liking and create a version that perfectly suits your palate.
What Does Blue Cheese Taste Like?
If you're not familiar with blue cheese, it has a distinct and tangy flavor, combining the creamy and smooth texture of the dressing with the characteristic pungency of blue cheese.
The taste is rich, savory and slightly salty, with a unique and robust flavor profile.
It adds a sharp and slightly funky note to the dressing, creating a balance of creamy and tangy elements.
Gibson Home Laurel Acacia Wood Salad Bowl Set, 3 – Piece, Acacia Wood
Annovero Serving Bowls
OXO – Good Grips 4.0 Salad Spinner-Green, Large
7 Inch Acacia Wood Salad Bowl Set
This dressing can vary in intensity depending on the type and amount of blue cheese used, but it generally offers a bold and flavorful experience.
What Can You Serve Blue Cheese Dressing With?
Blue cheese dressing pairs well with a variety of foods. Here are some popular options to serve with blue cheese dressing:
Salads: Often used as a dressing for salads, particularly those with strong flavors. It complements salads with ingredients like mixed greens, tomatoes, bacon, chicken or grilled vegetables.
Chicken Wings: A classic accompaniment to chicken wings. The creamy and tangy flavors of the dressing provide a nice contrast to the spicy or savory flavors of the wings.
Crudité Platter: Serve this dressing alongside a platter of fresh vegetables like carrot sticks, celery, bell peppers and cherry tomatoes. It adds a flavorful and creamy dip option for a healthy and refreshing snack.
Burgers and Sandwiches: Use this dressing as a condiment for burgers or as a spread on sandwiches. Its bold flavor can enhance the taste of beef, poultry or vegetarian options.
Buffalo Cauliflower or Cauliflower Bites: If you're looking for a vegetarian or healthier alternative to chicken wings, try serving blue cheese dressing with buffalo cauliflower or cauliflower bites. The dressing complements the spicy flavors and adds a creamy element.
Potato Wedges or Fries: This dressing can be used as a dip for crispy potato wedges or fries. Its creamy and tangy flavor pairs well with the savory taste of potatoes.
Grilled Meats: Blue cheese dressing can be served alongside grilled meats such as steak, pork chops or even grilled shrimp. It adds a creamy and tangy element that complements the smoky flavors of the grilled meat.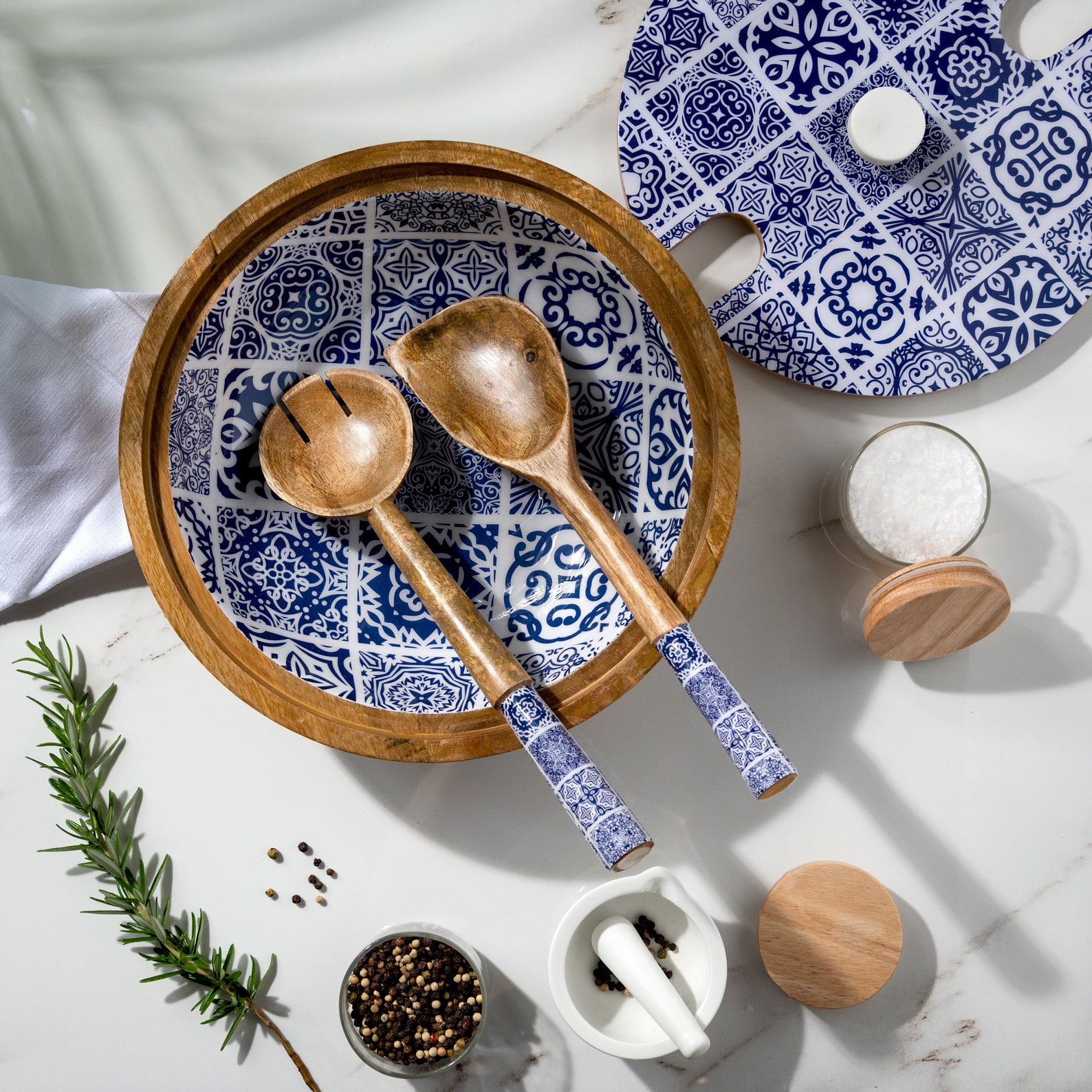 Handmade Mango wood Decorative Wooden Salad Bowl Se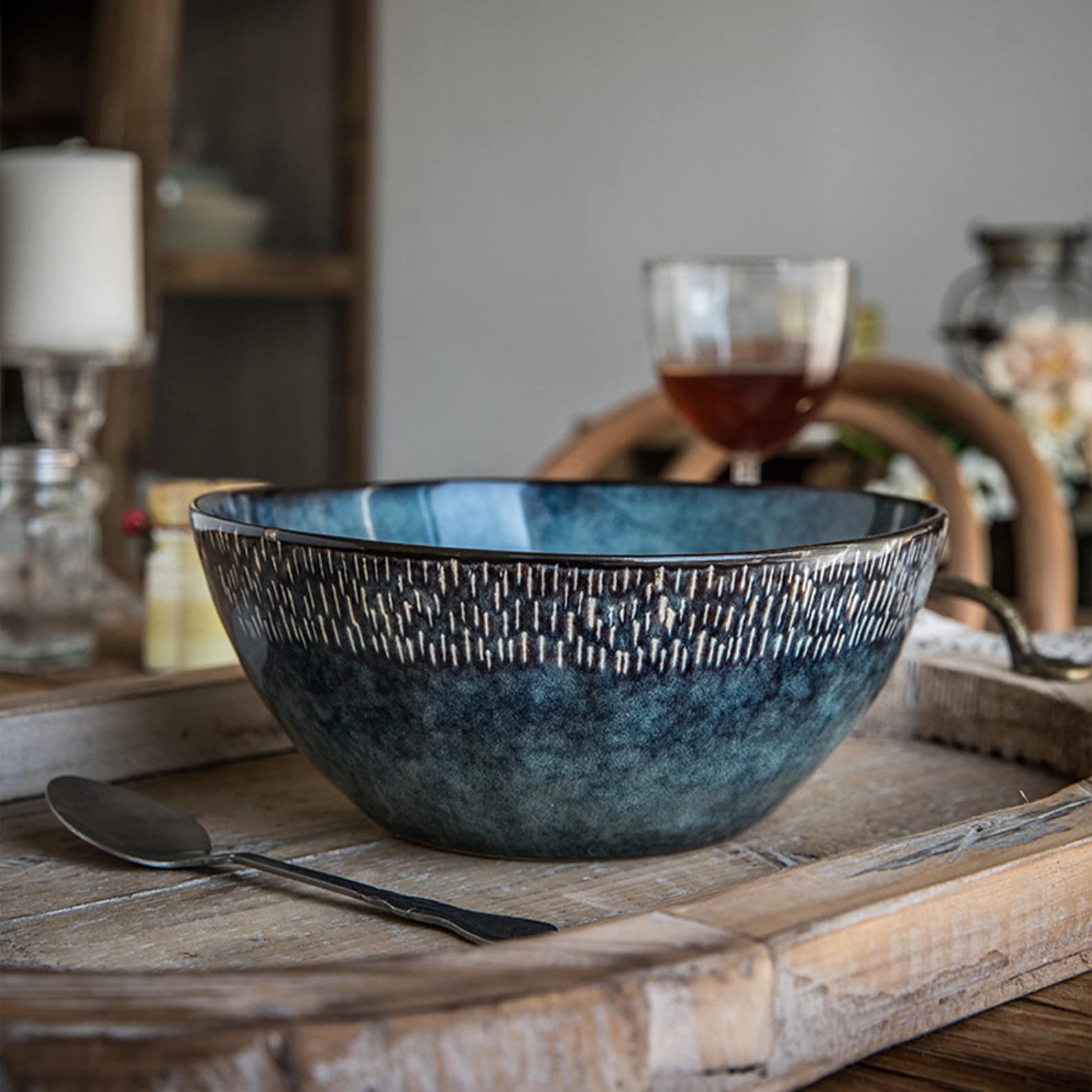 8″ blue bowl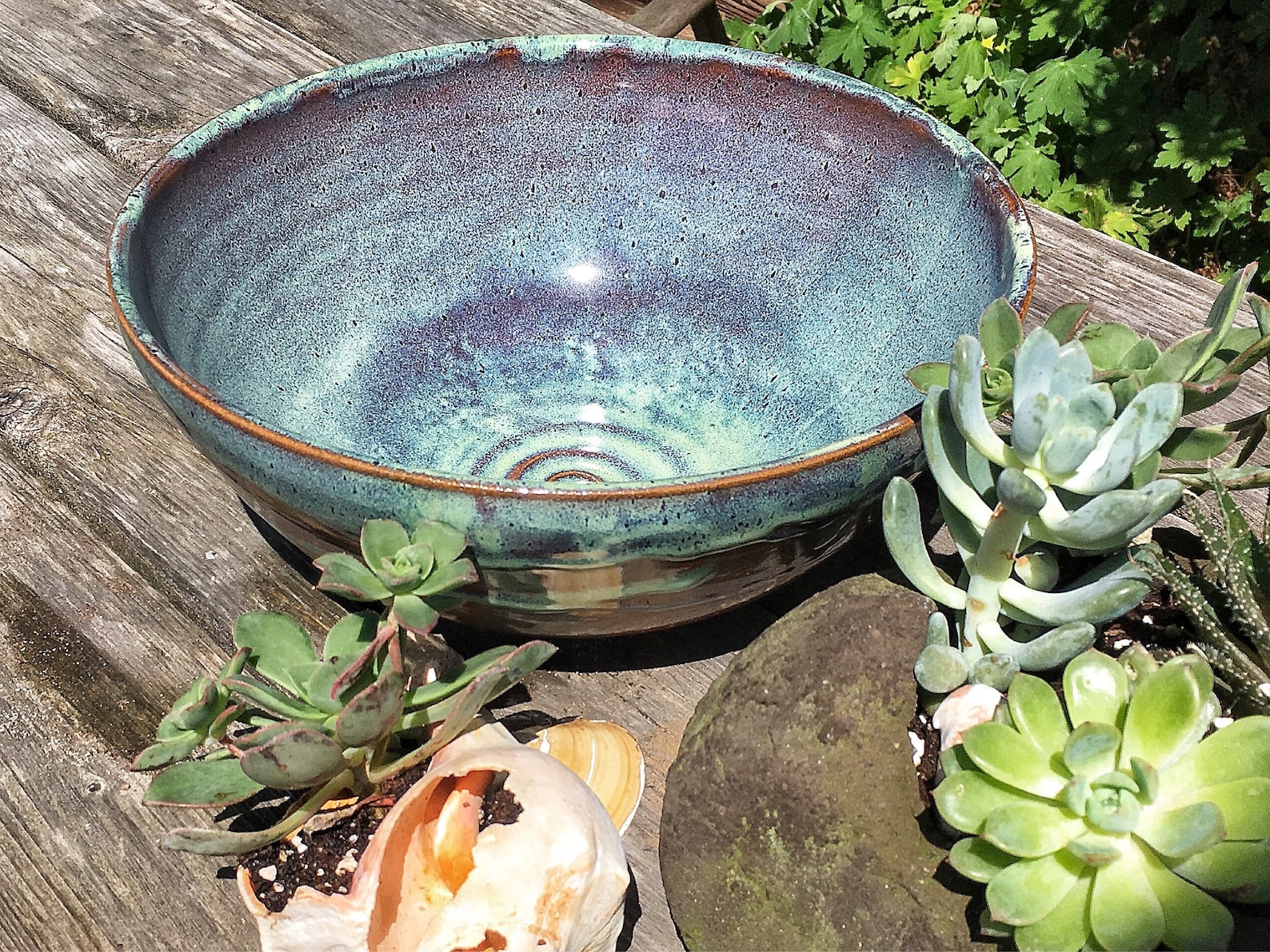 Turquoise Salad Bowl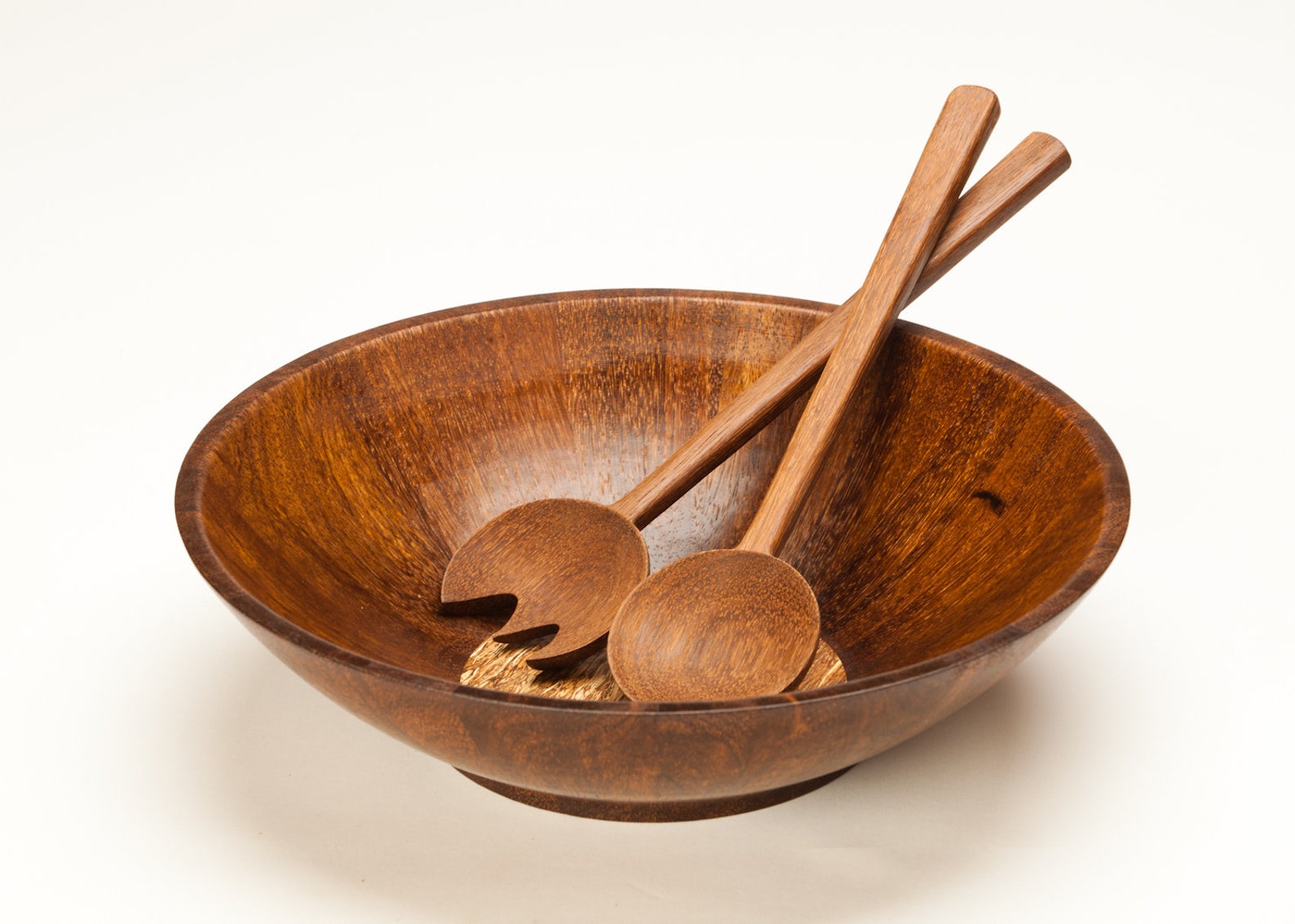 Wooden Serving Bowl
These are just a few examples, but feel free to get creative and explore different combinations with this dressing based on your preferences and the occasion!
My personal favorite is to use the dressing as a salad dressing. Too boring? My tastebuds would differ.
What Kind of Blue Cheese Makes the Best Salad Dressing?
When it comes to choosing the best kind of blue cheese for making salad dressing, it often depends on personal preference and the flavor profile you desire.
However, some popular options include:
Roquefort: Roquefort cheese has a rich and tangy flavor, which can add a bold and distinctive taste to your salad dressing. It pairs well with robust greens like arugula or mixed baby greens.
Gorgonzola: Gorgonzola cheese offers a creamy texture and a milder, yet still tangy flavor. It works well in salad dressings when you want a balanced taste that doesn't overpower other ingredients.
Danish Blue: Danish Blue cheese has a salty and sharp flavor, which can provide a bold kick to your salad dressing. It adds a nice savory note when combined with sweeter salad components, such as fruits or candied nuts.
Ultimately, the best kind of blue cheese for salad dressing will depend on your personal taste preferences and the specific flavors you want to achieve.
It's a good idea to experiment with different varieties to find the one that suits your palate and complements the other ingredients in your salad.
Perfect Recipes for this Dressing
Take your tailgate party to your house with these Baked Chicken Wings that help simplify hosting so you can focus on the big screen.
No matter what my family prefers on their burgers, they all agree that Jenny Burgers are the best burger patty recipe out there! Slather on this dressing for an out of world experience.
Ultimate Cobb Salad is chock full of grilled chicken, crispy bacon, tomatoes, ripe avocado, hard-boiled eggs, blue cheese and a bed of fresh lettuce.
Get ready to enjoy the bold and creamy goodness of homemade blue cheese dressing, and take your salads and dishes to a whole new level of deliciousness.
Blue Cheese Dressing
Homemade Blue Cheese Dressing is a classic and indulgent condiment that brings a rich and tangy flavor to any salad or dish. Made with a creamy base and crumbled blue cheese, this dressing offers a perfect balance of sharpness and creaminess.
Ingredients
¼ c. full-fat sour cream
¼ c. mayonnaise
1 T. fresh lemon juice
2 t. Worcestershire sauce
½ medium shallot, very finely minced
2 oz. chunky blue cheese
2-3 T. half & half
Sea salt and freshly cracked pepper, to taste
Instructions
To prepare the blue cheese dressing, add the first five ingredients to a medium bowl and stir to combine. Add the blue cheese and use a fork to break up the chunks and incorporate the cheese into the mixture. (If you prefer a chunkier dressing, leave some of the chunks intact).
Add the half & half one tablespoon at a time to the bowl until you reach the desired consistency. Add more half & half if you prefer a less thick dressing. Season with salt and black pepper, to taste, and stir to combine. Set aside.
Recommended Products
As an Amazon Associate and member of other affiliate programs, I earn from qualifying purchases.
Nutrition Information:
Yield:

4
Serving Size:

1
Amount Per Serving:
Calories:

206
Total Fat:

19g
Saturated Fat:

7g
Trans Fat:

0g
Unsaturated Fat:

11g
Cholesterol:

32mg
Sodium:

442mg
Carbohydrates:

4g
Fiber:

0g
Sugar:

2g
Protein:

4g
Nutrient values are only estimates provided by online calculators. Various factors can change the nutritional information in any given recipe.