Indulge in a flavorful and nutritious delight with this Mediterranean Tuna Salad recipe that brings together a colorful combination of protein-packed tuna and fiber-rich veggies. Salad Recipes with protein are a terrific way to eat healthy and stay satiated.
Bursting with vibrant hues and enticing textures, this salad is a celebration of Mediterranean flavors and wholesome ingredients.
The star of the show is the tender and flaky tuna, which provides a generous dose of protein to keep you feeling satisfied and energized.
This post contains affiliate links.
Complementing the tuna are an array of crisp and refreshing vegetables, such as cucumbers, cherry tomatoes and Kalamata olives which not only add a beautiful pop of color but also contribute a healthy dose of fiber.
Have some fun with this salad and serve it with your own homemade pita chips!
What Makes Food Mediterranean?
Mediterranean cuisine is characterized by the culinary traditions of countries that border the Mediterranean Sea, including Greece, Italy, Spain, France, Turkey, and others.
At the heart of Mediterranean food is an emphasis on fresh, seasonal and locally sourced ingredients. Fruits, vegetables, legumes, whole grains, fish, and olive oil form the foundation of many dishes.
Olive oil, in particular, plays a central role, providing a fruity richness and serving as a healthier cooking option.
Aromatic herbs like basil, oregano, thyme, rosemary, and parsley, as well as spices such as garlic, cumin, cinnamon, and paprika, add depth and complexity to the flavors.
Whole grains, legumes and a wide array of fresh fruits and vegetables are incorporated, providing fiber, nutrients and vibrant colors.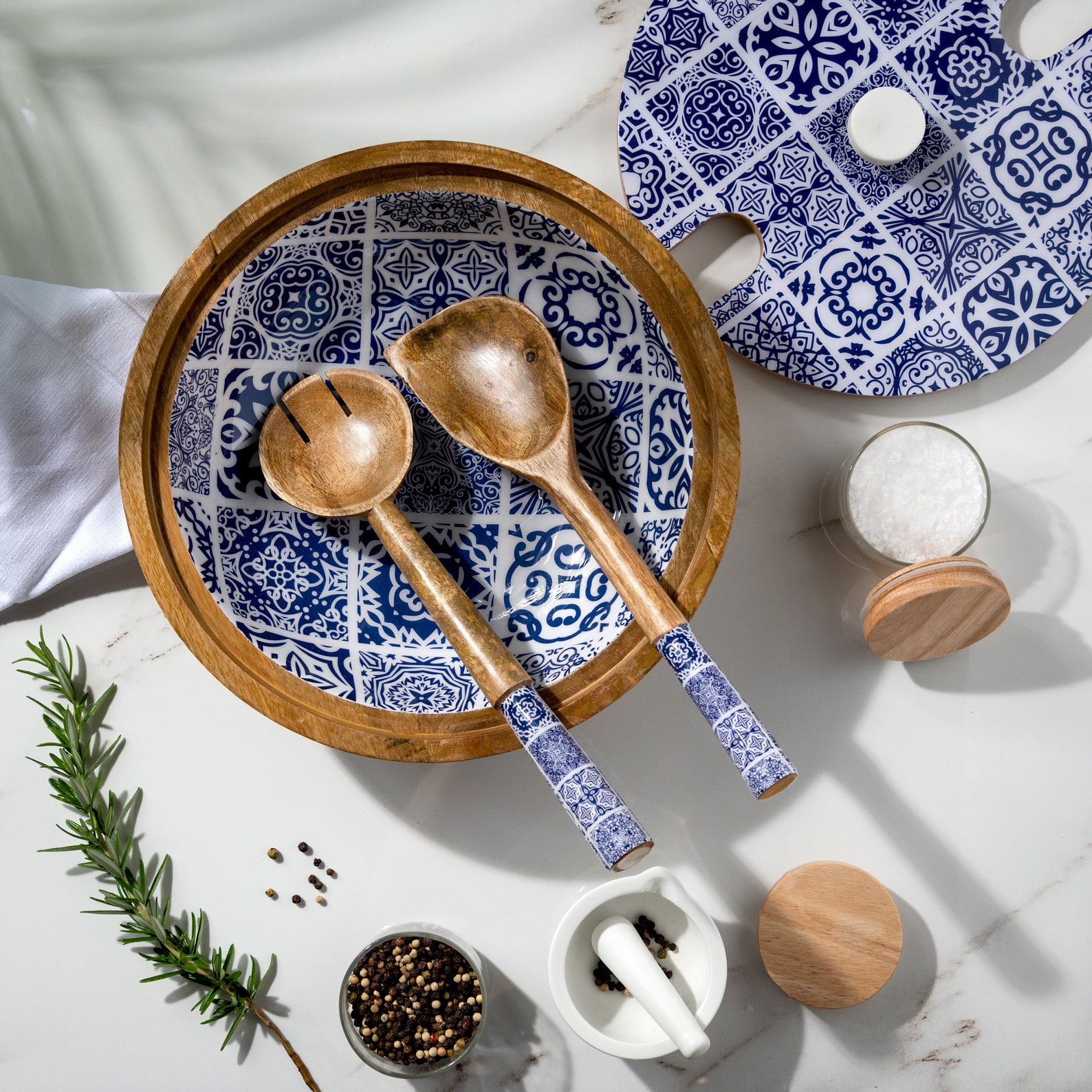 Handmade Mango wood Decorative Wooden Salad Bowl Se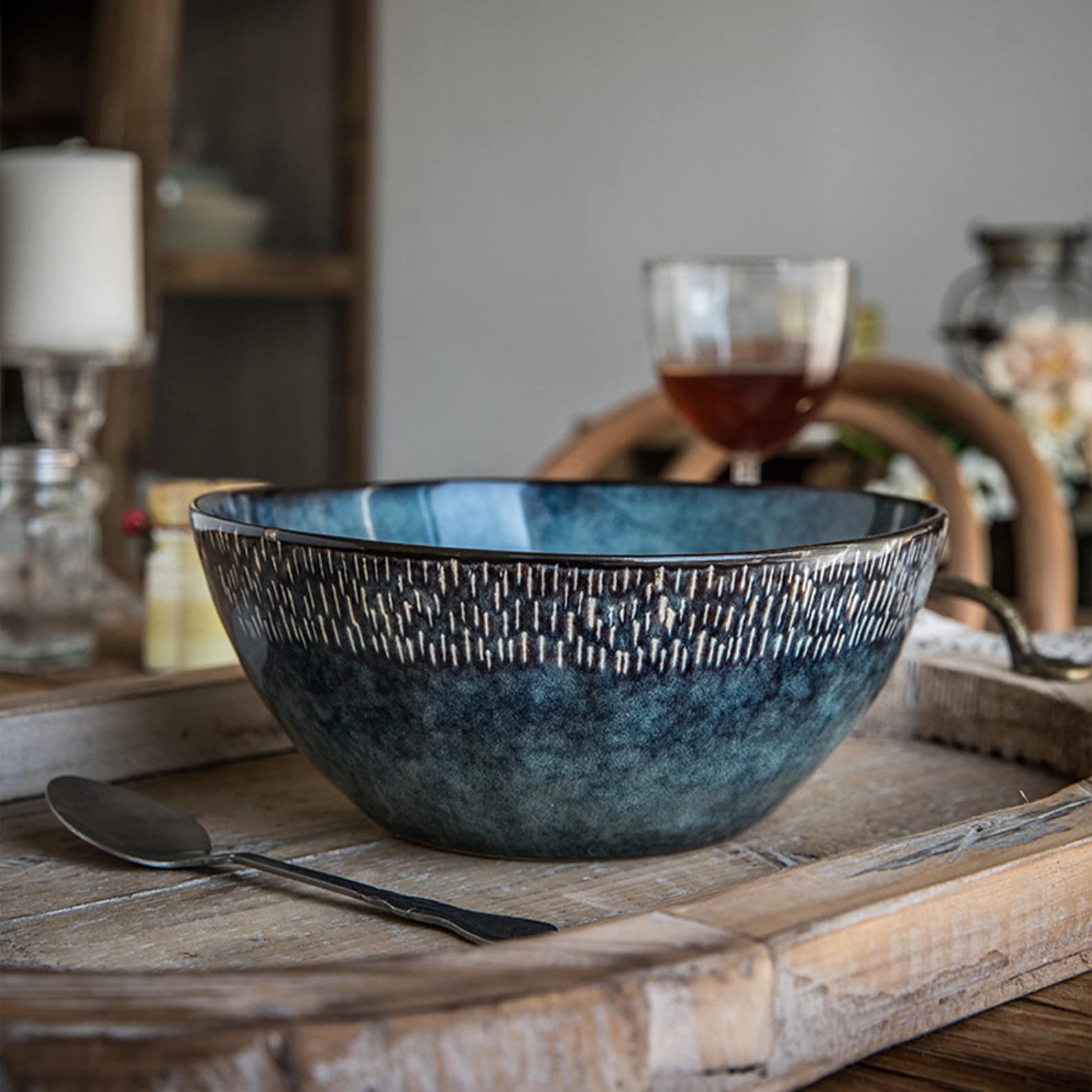 8″ blue bowl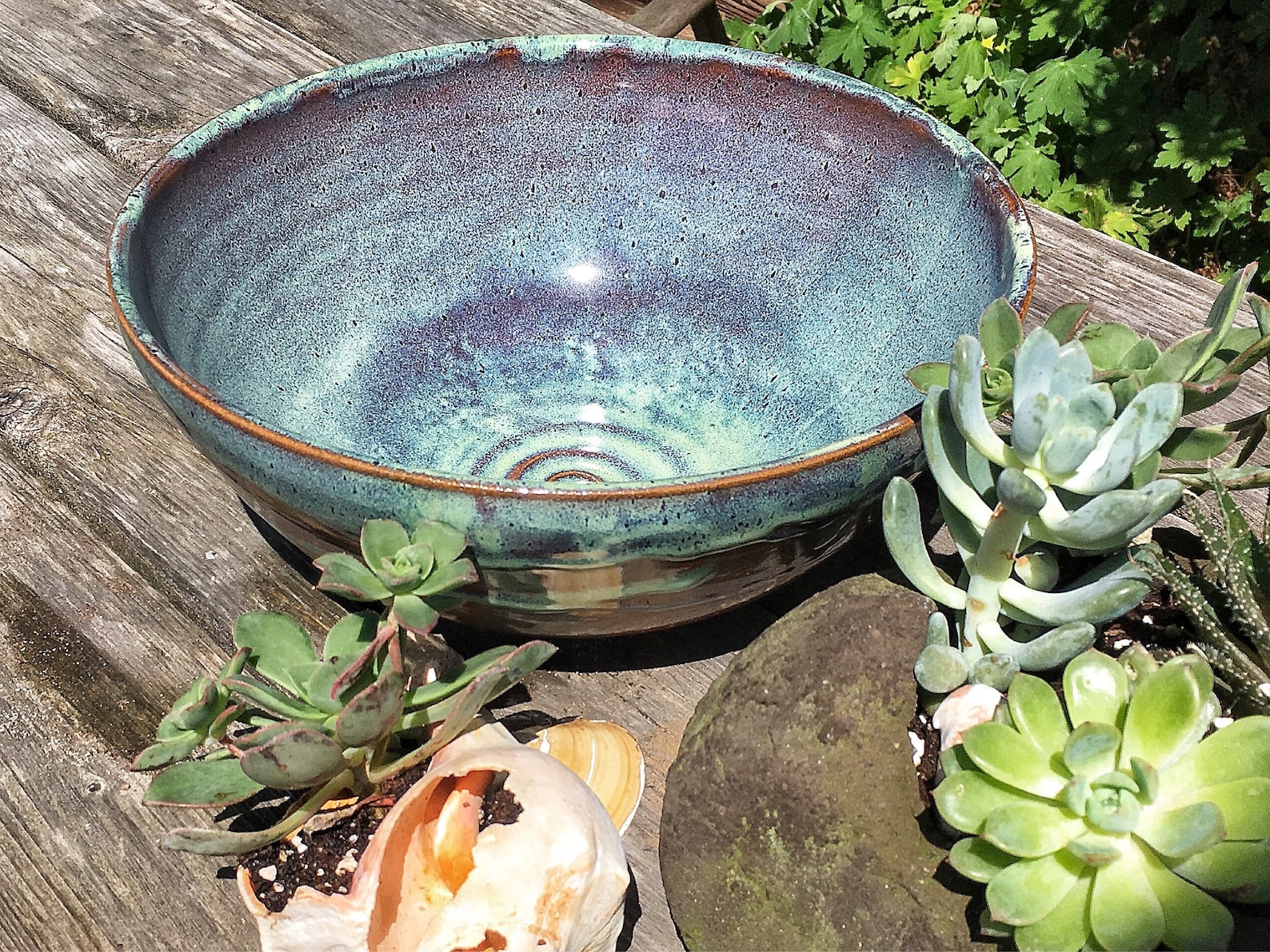 Turquoise Salad Bowl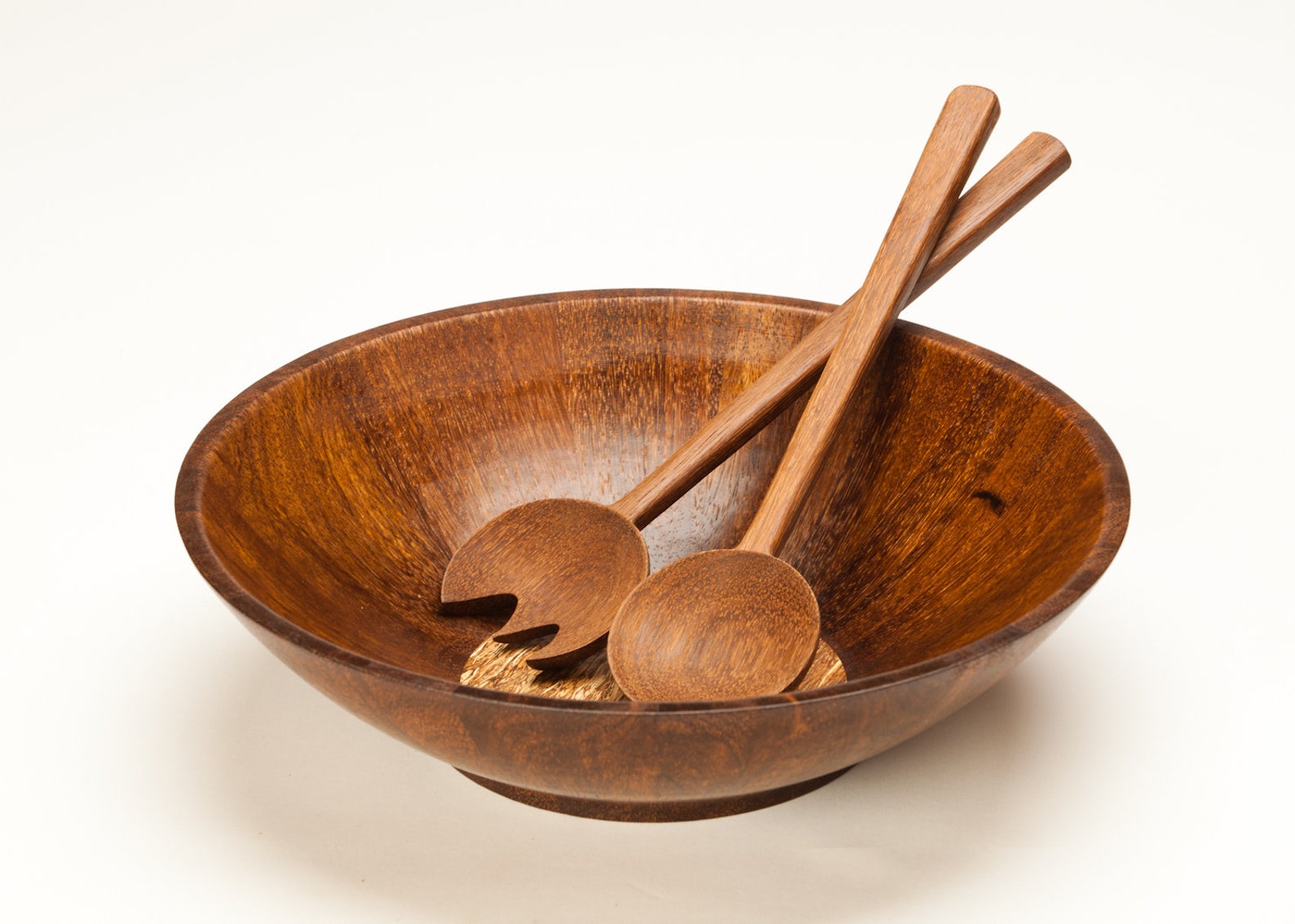 Wooden Serving Bowl
Cheeses like feta, halloumi, and goat cheese, as well as yogurt, are common additions.
The Mediterranean diet, with its focus on fresh, wholesome ingredients, balanced flavors and the enjoyment of a Mediterranean-inspired lifestyle, has gained recognition for its health benefits and delectable taste and rightly so!
What is Feta Cheese?
Feta cheese is a classic Greek cheese that has gained popularity worldwide.
It is a brined cheese traditionally made from sheep's milk or a blend of sheep's and goat's milk.
The cheese has a crumbly texture and a tangy, salty flavor that sets it apart.
Feta cheese is usually formed into blocks or cubes and stored in a brine solution, which helps preserve its freshness and enhances its taste.
Gibson Home Laurel Acacia Wood Salad Bowl Set, 3 – Piece, Acacia Wood
Annovero Serving Bowls
OXO – Good Grips 4.0 Salad Spinner-Green, Large
7 Inch Acacia Wood Salad Bowl Set
Feta cheese is widely used in Mediterranean cuisine, often crumbled on salads, added to sandwiches and wraps, or incorporated into various dishes like pastries and savory pies.
Its unique flavor and versatility make feta cheese a beloved ingredient in both traditional Greek recipes and modern culinary creations around the world.
More Mediterranean Recipes
Transport yourself to the sun-kissed shores of the Mediterranean with this delightful Mediterranean Linguine Recipe with Basil and Tomatoes!
If hot weather means lighter fare is on the menu, this Mediterranean Orzo Salad can be ready in mere minutes.
If you're eating healthier, you will absolutely love every bite of these tasty Zucchini Fritter Mediterranean Rice Bowls with relish!
The bright citrus flavor of lemon combined with the fragrant aroma of rosemary makes these slow cooker rosemary Lemon Chicken Thighs a hit at the dinner table any night.
Whether enjoyed as a refreshing lunch, a light dinner, or a delightful side dish, this Mediterranean Tuna Salad is a true feast for both the senses and the body, offering a nutritious and delicious option to savor.
A special thanks to Chicken of the Sea for this healthy Mediterranean Tune Salad recipe.
Mediterranean Tuna Salad
Indulge in a flavorful and nutritious delight with this Mediterranean Tuna Salad recipe that brings together a colorful combination of protein-packed tuna and fiber-rich veggies.
Ingredients
Dressing:
2 tablespoons lemon juice
1 tablespoon extra-virgin olive oil
1/4 teaspoon dried oregano
Salad:
1 can (5 ounces) Chicken of the Sea Chunk Light Tuna, drained
1 cup halved cherry tomatoes
1/3 cup sliced Kalamata olives
1 cup chopped English cucumber (about 1/2 cucumber)
1/4 cup feta
1 tablespoon minced parsley
pita chips (optional)
crackers (optional)
Instructions
To make dressing: In large bowl or in a salad dressing container, whisk lemon juice, olive oil and oregano.
To make salad: In a large bowl, add tuna, tomatoes, olives and cucumber. Gently toss to cover salad with dressing then top with feta and parsley.

Serve with pita chips or crackers, if desired. Homemade pita chips are absolutely amazing!
Recommended Products
As an Amazon Associate and member of other affiliate programs, I earn from qualifying purchases.
Nutrition Information:
Yield:

2
Serving Size:

1
Amount Per Serving:
Calories:

326
Total Fat:

19g
Saturated Fat:

5g
Trans Fat:

0g
Unsaturated Fat:

13g
Cholesterol:

46mg
Sodium:

658mg
Carbohydrates:

19g
Fiber:

3g
Sugar:

5g
Protein:

22g
Nutrient values are only estimates provided by online calculators. Various factors can change the nutritional information in any given recipe.