Step into the enchanting world of fall with our captivating Fall Leaf Sensory Bin! Overflowing with the vibrant colors and textures of autumn, this sensory experience is designed to delight and engage the senses.
Be sure to check out our other fun sensory activities for kids!
This post contains affiliate links.
As your child immerses their hands in the sensory wonderland, they'll discover a treasure trove of sensory delights, including a bag of popcorn kernels that provide a delightful crunch beneath your fingers.
The package of fall-colored leaves, small pinecones and assortment of orange and white checkered pumpkins and faux leather pumpkins evoke the essence of the season.
Amidst the sensory splendor, small sunflowers, burgundy berries and gold-toned sequins create a multisensory feast that invites your child to explore, create and celebrate the magic of autumn.
Find even more fall family fun, educational ideas and recipes!
Dollar Tree Leaf Sensory Bin Materials
During the season, you can often find the materials you want at your local Dollar Tree, but you can also easily get them on Amazon.
Materials:
One thing we like to do is go pick our own pine cones in the backyard.
It's a great way to get the kids outside, soak in some fresh air and sunshine and participate in making their own fall leaf sensory bin.
Put Together Your Fall Leaf Sensory Bin
First, add the as much of the popcorn kernel bag as you would like. (I generally use about ¾ of the bag.)
Next add a good handful of the gold sequins. If you have orange and white ones around, you can always use those as well.
Next mix in all the other fall objects!
Ways to Engage Your Child in Playing with Their Fall Leaf Sensory Bin
Playing with a fall leaves sensory bin can be a fun and engaging experience for children. Here are some ideas to encourage creativity and exploration!
Sensory Search: Encourage your child to use their hands to explore the different textures and shapes in the sensory bin. They can run their fingers through the popcorn kernels, feel the smoothness of the faux leather or velvet pumpkins, and touch the softness of the fall leaves.
Sorting and Counting: Have your child sort the items based on their colors, shapes, or types. They can count the number of pinecones, sunflowers, or pumpkins they find, enhancing their math and sorting skills.
Nature Hunt: Take the sensory bin outdoors and invite the child to collect additional fall leaves, pinecone, or other natural items to add to the mix. This adds an extra layer of exploration and connects the sensory experience to nature.
Pretend Play: Encourage imaginative play by using the items in the sensory bin to create fall-themed scenes or stories. Your child can set up a miniature autumn garden with the pumpkins, sunflowers and berries — or create a cozy woodland scene with the pinecones and fall leaves.
Sensory Seek and Find: Hide small objects like acorns or toy animals within the sensory bin and have the child search for them. This activity promotes attention to detail and fine motor skills.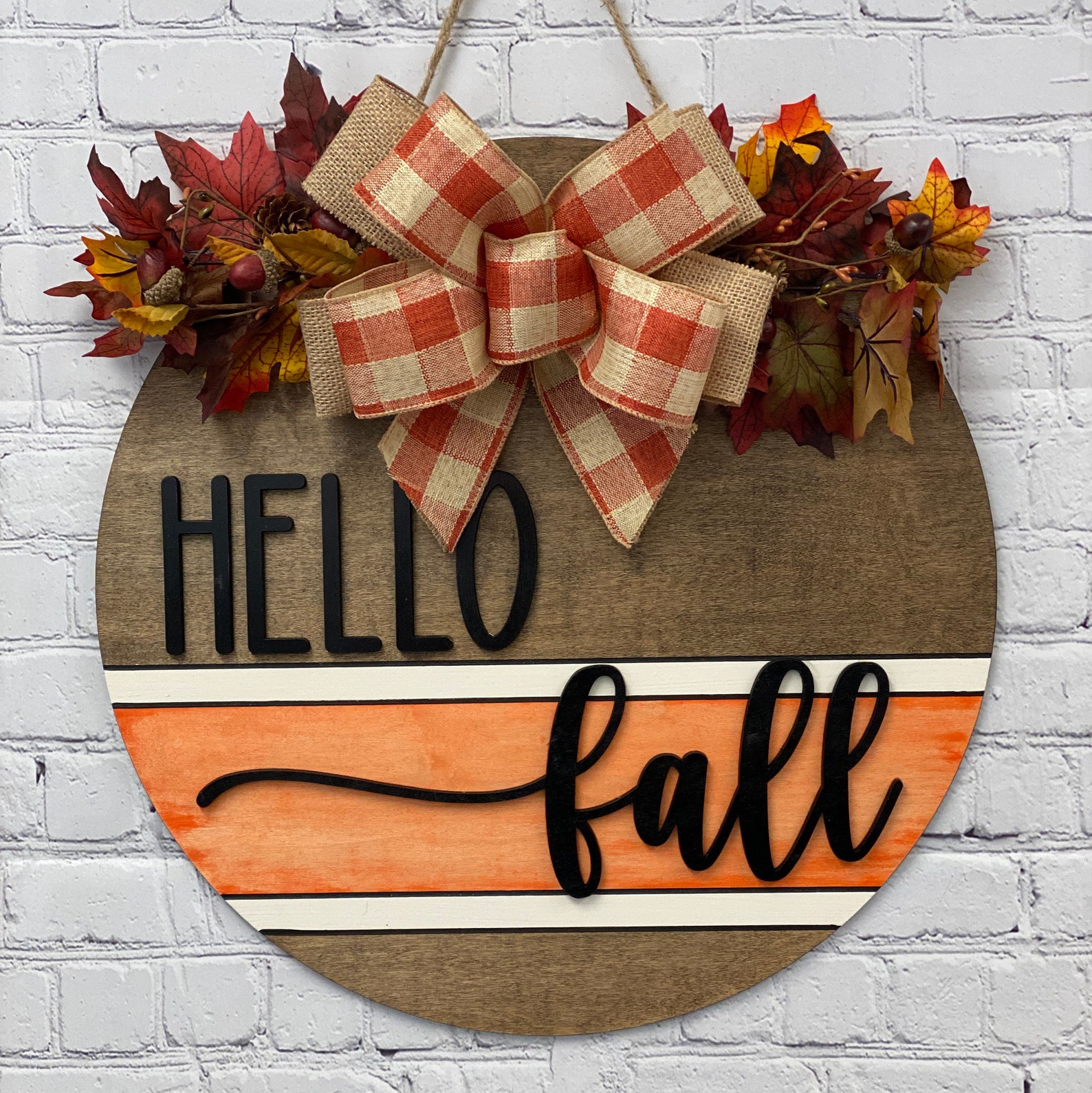 Hello Fall Door Hanger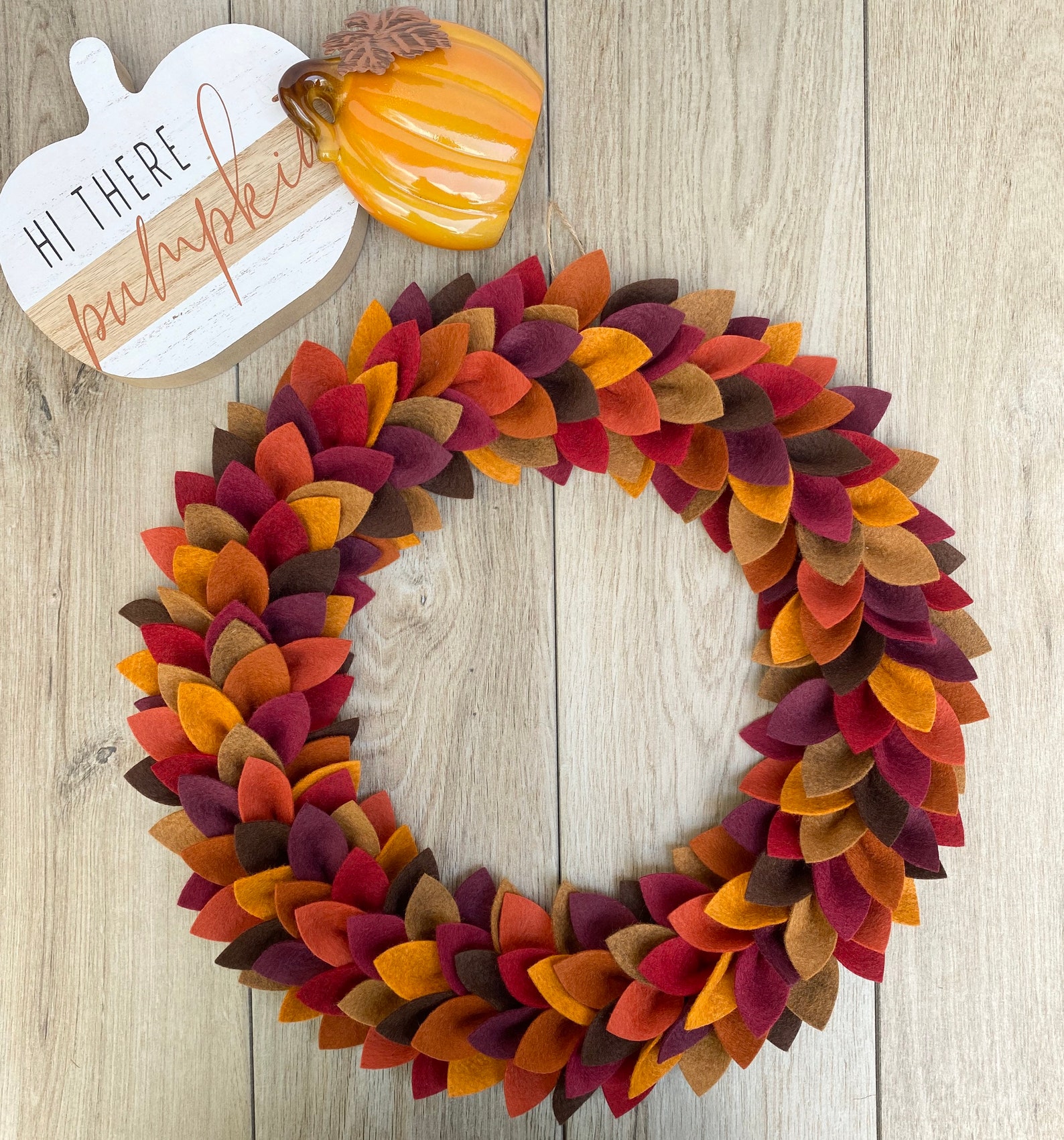 FALL Felt Wreath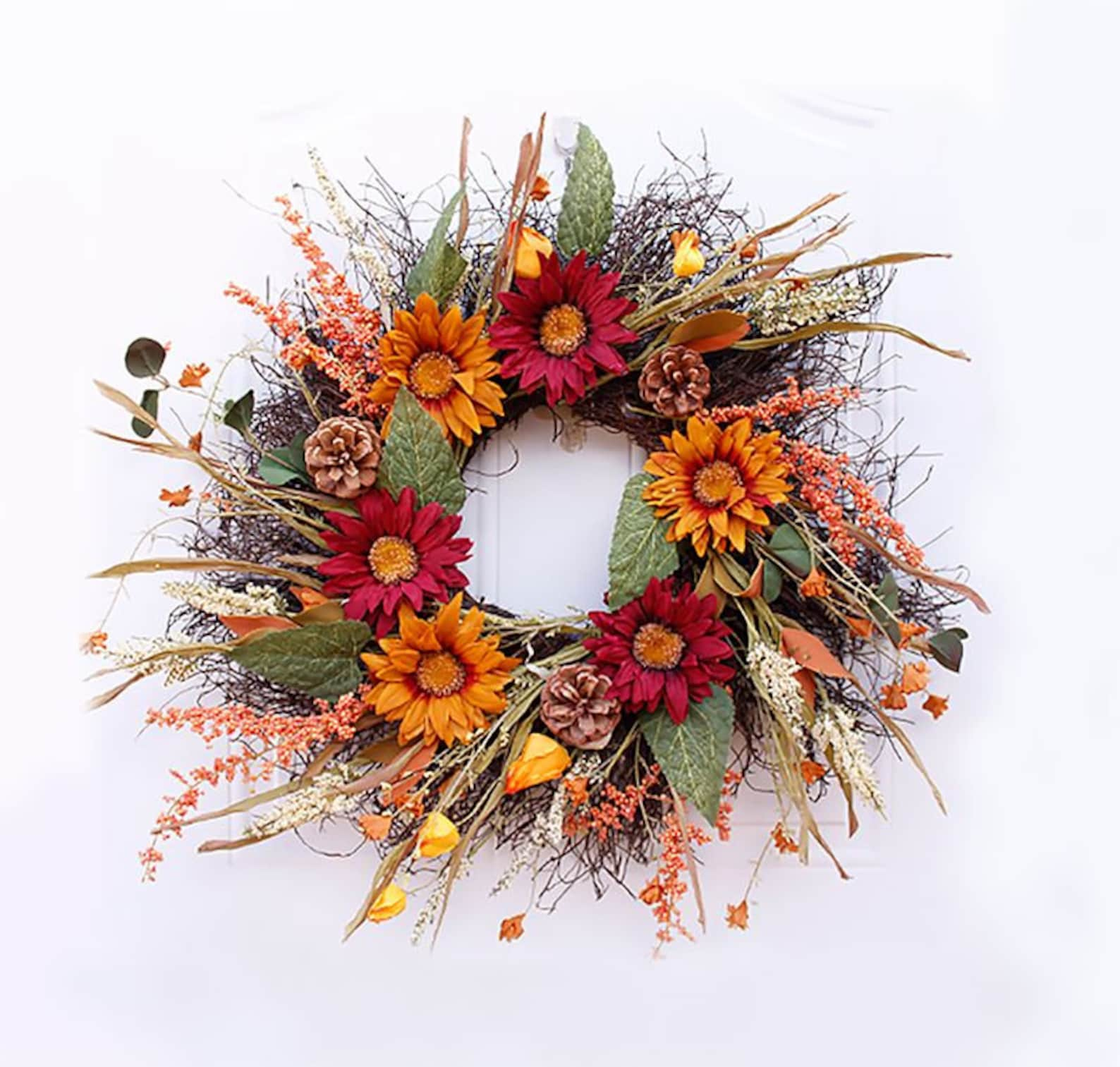 Sunflower Wreath for Fall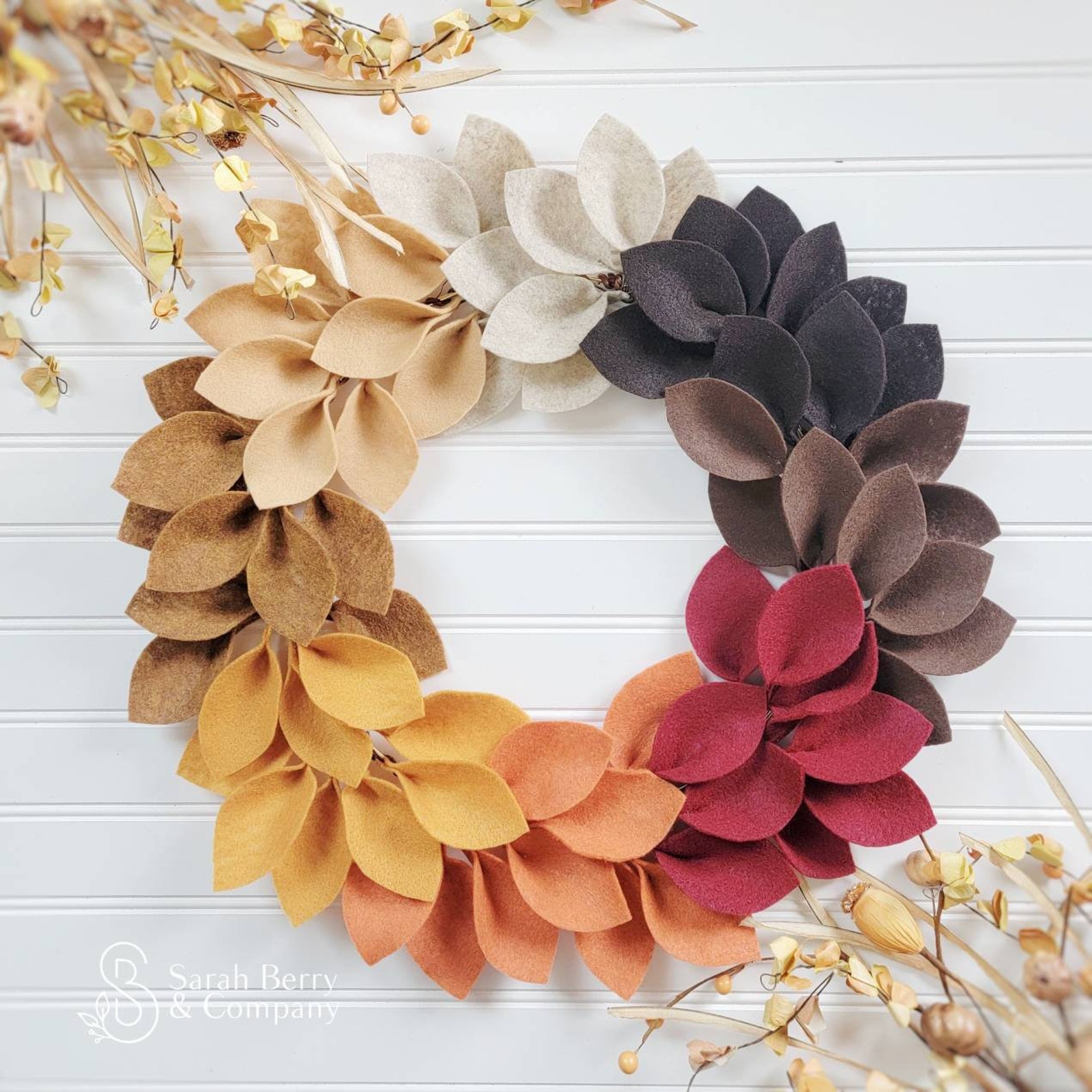 Fall Felt Leaf Wreath
Create Patterns: Use the sequins or other items to create patterns or designs in the sensory bin. Your child can experiment with arranging the items in different ways, fostering creativity and critical thinking.
Seasonal Art: Encourage the child to use the fall leaves and other items from the sensory bin in arts and crafts projects. They can create leaf rubbings, use the pinecones as stampers, or make collages with the different materials.
Remember to supervise play, especially with younger children, to ensure that small items like sequins are used safely.
With these engaging activities, the fall leaves sensory bin becomes a wonderful tool for sensory exploration, imaginative play and hands-on learning during the autumn season.
More Fall Sensory Play Ideas
This Fine Motor Fall Sensory Bin is going to be a hit with your little one.
Fall is an amazing time of year for your child to explore her sensory world outside. Try these eight fall sensory activities that are just sitting at your fingertips.
This Forest Floor fall sensory activity lets little hands feel the slippery surface of leaves, sticks and pinecones after a heavy rain washes dirt and other debris to create a slimy forest environment under the tree-tops.
What better way to enjoy a sunny fall day than to explore a fall farm sensory bin outdoors! What particularly makes this fall farm sensory bin fun to explore is it feels like a farm setting.
Easy Fine Motor Printable Fall Activities:
Let your child's imagination roam free and bask in the sensory delights of our Fall Leaf Sensory Bin!