Sparkling Blueberry Lemonade
Bursting with the natural sweetness of juicy blueberries and the zesty brightness of freshly squeezed lemons, this Sparkling Blueberry Lemonade is a perfect blend of tart and sweet.
But what sets this lemonade apart is the effervescence that comes from the addition of sparkling water. This delightful fizz adds a touch of magic to every sip, making it a true celebration of flavors and textures.
Be sure to check out the rest of our easy drink recipes, too!
This post contains affiliate links.
Indulge in a sparkling symphony of flavors with our refreshing drink that will take your taste buds on a delightful journey.
Can Blueberries Be Frozen
If you plan on going blueberry picking near you, you may end up with a LOT more berries than you were planning on. But don't fear.
Yes, blueberries can be frozen, and freezing is an excellent way to preserve their freshness and extend their shelf life. Freezing blueberries is a simple process that allows you to enjoy them throughout the year in smoothies, baked goods or as a delicious frozen snack.
Wash: Start by washing the blueberries under cold running water to remove any dirt or debris. Gently pat them dry with a paper towel.
Dry: Make sure the blueberries are completely dry before freezing them. Excess moisture can lead to freezer burn and affect the texture and taste of the berries.
Arrange on a Tray: Spread the dry blueberries in a single layer on a baking tray lined with parchment paper. This prevents them from clumping together and ensures they freeze individually.
Pre-Freeze: Place the baking tray with the blueberries in the freezer and let them pre-freeze for about 1 to 2 hours. This step helps the berries retain their shape during the freezing process.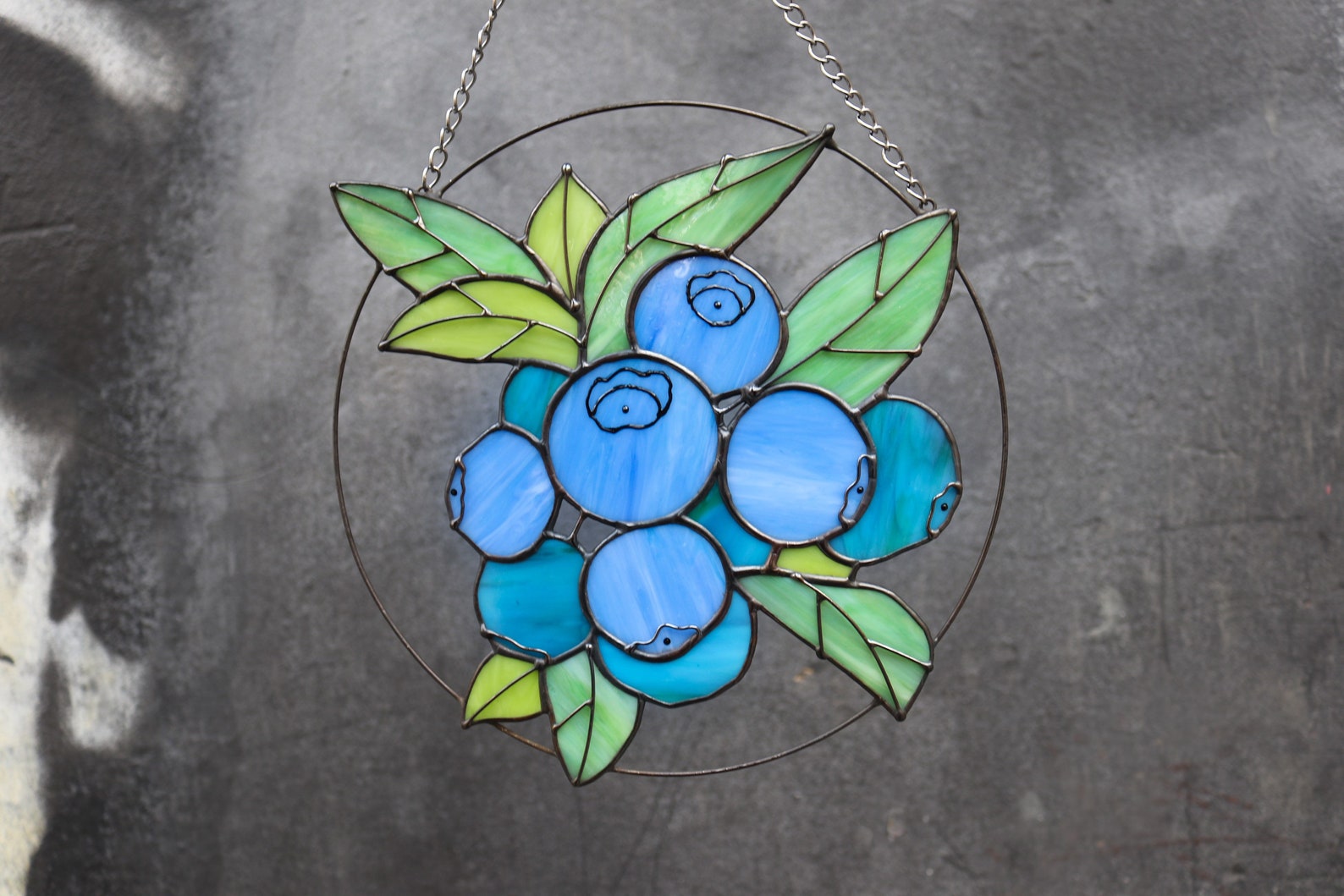 Blueberry Suncatcher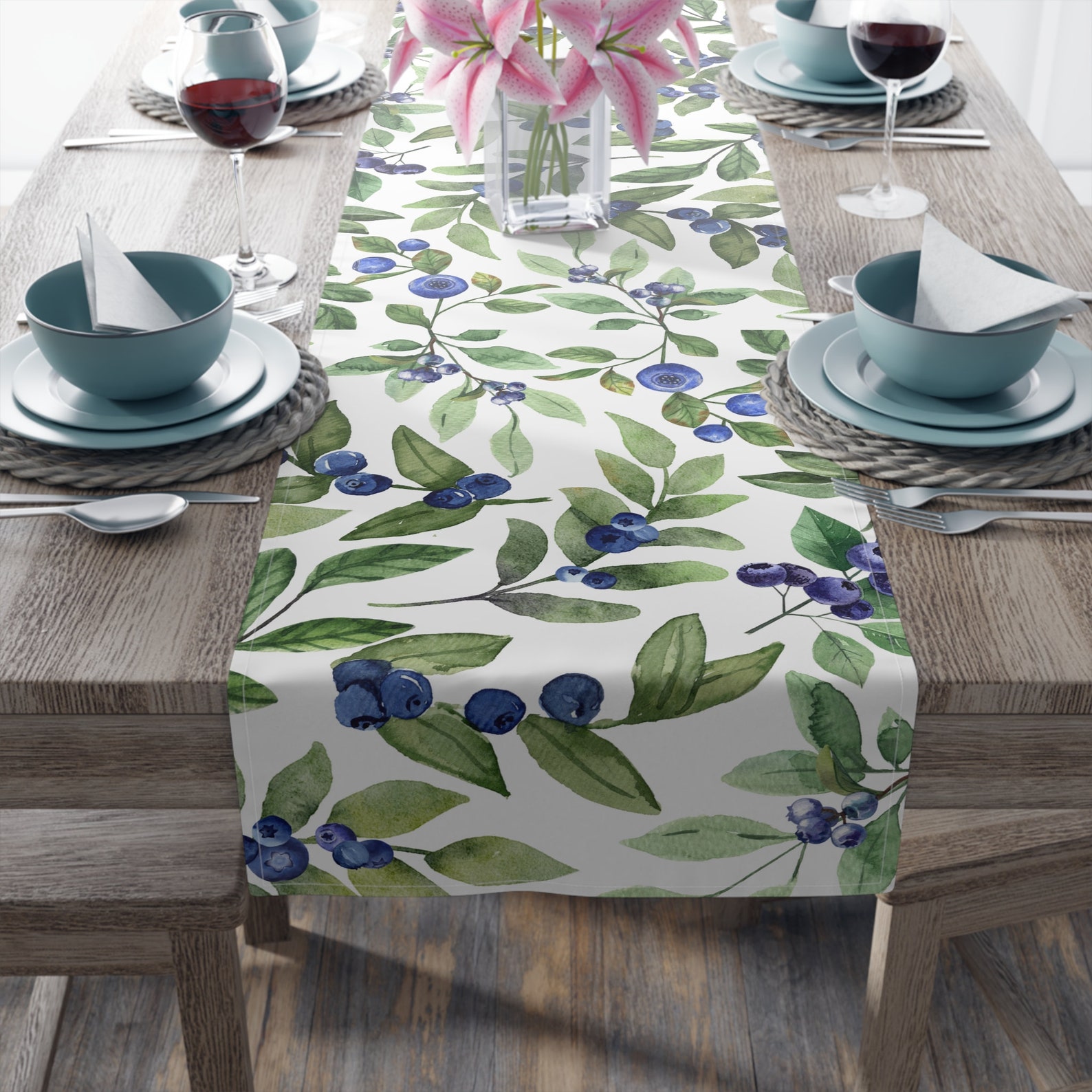 Blueberry Table Runner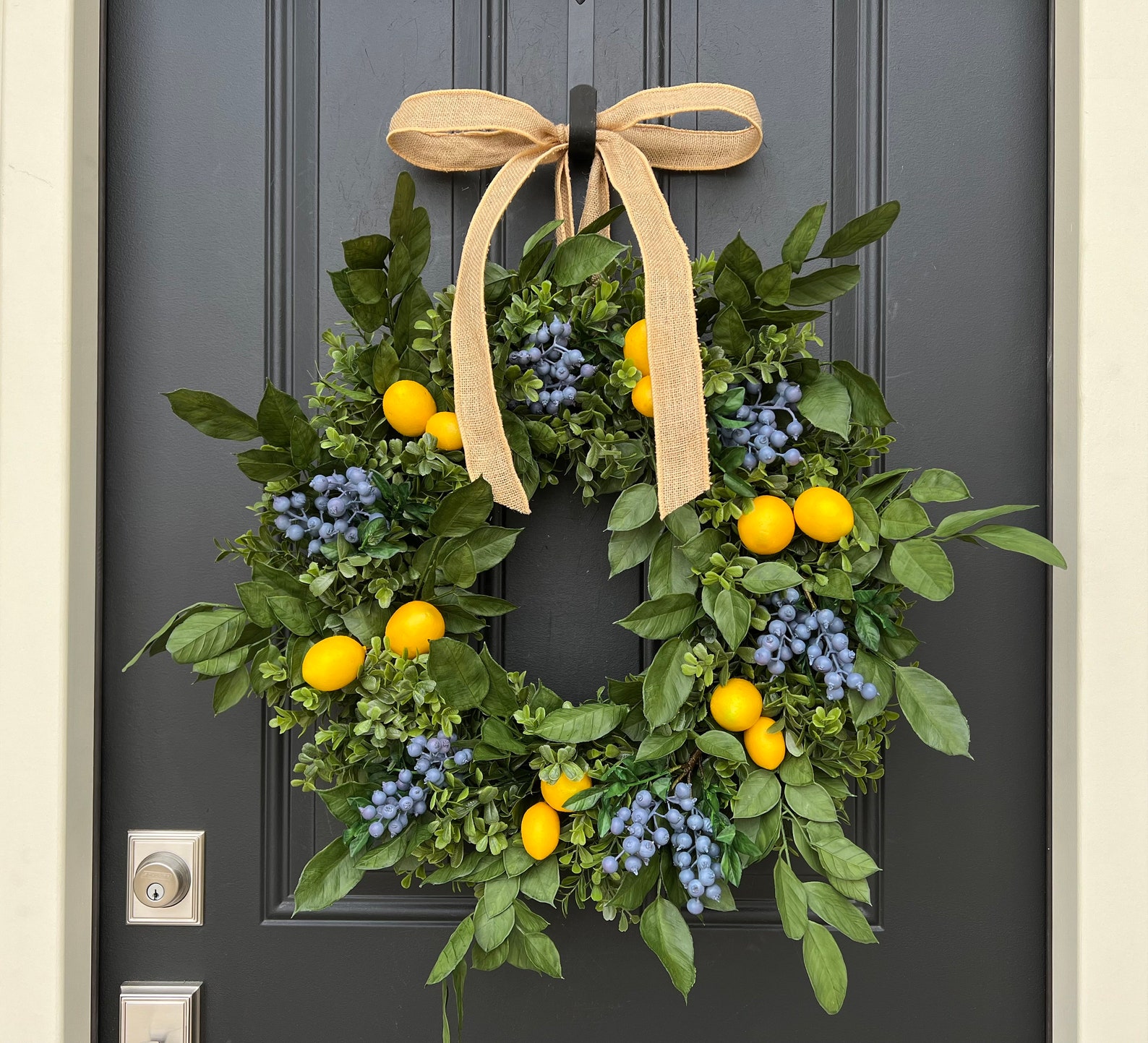 Lemons and Blueberry Wreath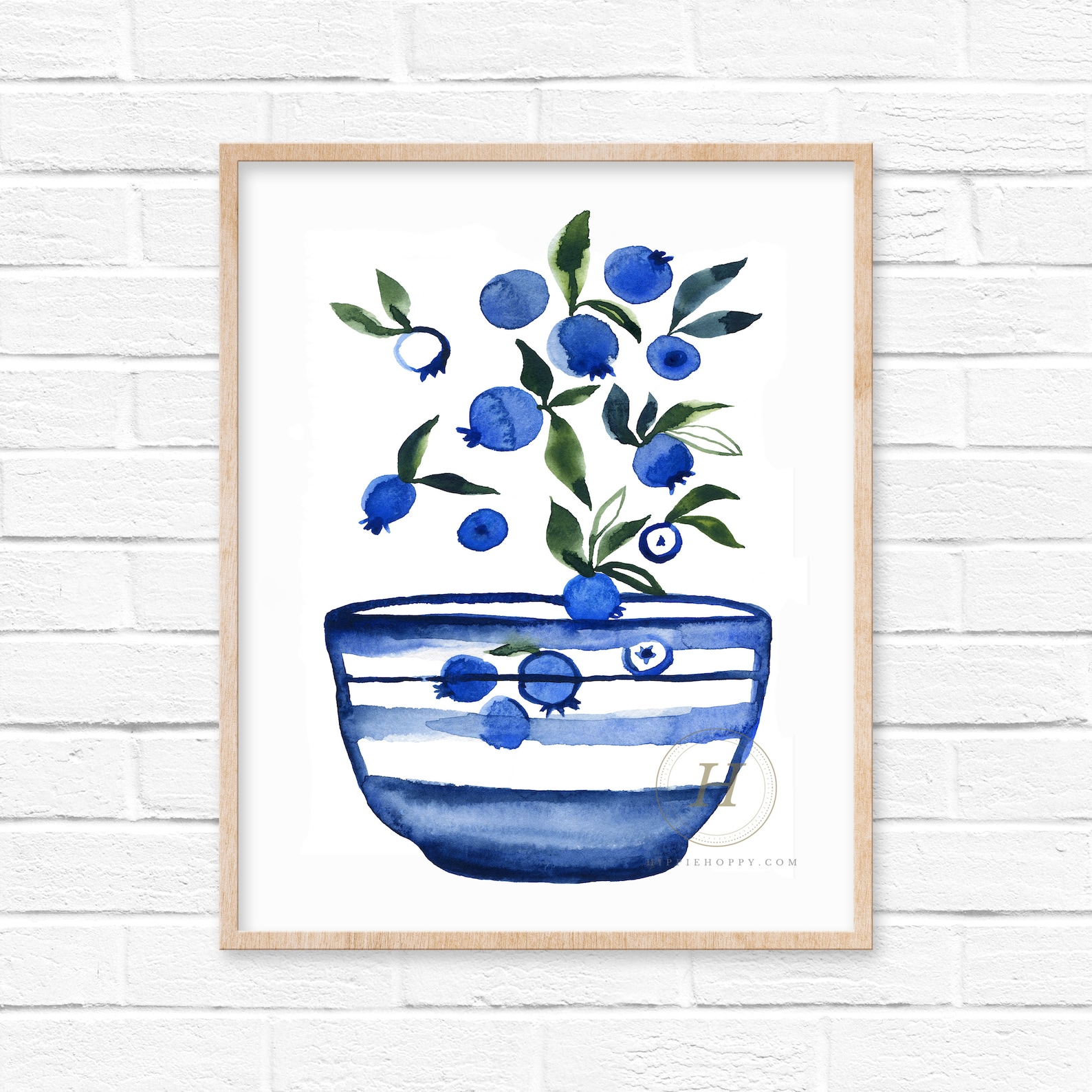 Blueberries in Bowl Watercolor Print

Transfer to Freezer Bags or Containers: Once the blueberries are pre-frozen, transfer them to airtight freezer bags or containers. Squeeze out any excess air from the bags before sealing to minimize freezer burn.
Label and Date: Don't forget to label the bags or containers with the date to keep track of their freshness.
Frozen blueberries can be stored in the freezer for up to 6 to 12 months, depending on the quality of the packaging. They can be used directly from the freezer in recipes or thawed before enjoying as a snack or in smoothies.
Blueberries versus Blackberries
For an interesting twist on this Sparkling Blueberry Lemonade, you could also make blackberry lemonade.
Although they share some similarities, blueberries and blackberries also have distinct characteristics that set them apart.
Blueberries are small, round berries with a deep blue-purple color and a sweet flavor with a subtle tartness. They're often enjoyed fresh, added to smoothies, used in baking or included in salads and desserts.
On the other hand, blackberries are slightly larger, elongated berries with a dark purple-black color and a more pronounced tartness. They can be eaten fresh, used in desserts, blended into jams or sauces, or even included in savory dishes.
Yirilan Glass Pitcher
50 Oz Water Carafe with Flip Top Lid
Glass Pitcher with Stainless Steel Lid
Glass Pitcher with Lid and Spout
In terms of taste, blueberries are generally sweeter, while blackberries have a more tangy and bold flavor – so it would create a less sweet lemonade.
Whether you prefer the sweetness of blueberries or the tanginess of blackberries, both fruits are a delicious and would be a fun fruit to use to make a sparkling lemonade.
More Blueberry Recipes
Bite-sized Mini Blueberry Tarts are filled with juicy blueberries, decadent chocolate and nestled in a buttery, flaky pastry shell. 
Lemon Blueberry Pancakes are a delightful breakfast treat that combines tangy lemon zest and juicy blueberries with fluffy, golden pancakes.
Blueberry Oat Bran Muffins Recipe is a tasty and healthy breakfast option that's easy to make and packed with flavor!
Whether you're sipping it on a warm summer day, serving it at a special gathering or just looking for a flavorful thirst-quencher, Sparkling Blueberry Lemonade is the ultimate drink that promises to tickle your taste buds and refresh your spirits.
Join us as we dive into the world of deliciousness and embrace the sparkling sensation of this sensational beverage – it's sure to become your new favorite go-to drink for any occasion.
Sparkling Blueberry Lemonade
Bursting with the natural sweetness of juicy blueberries and the zesty brightness of freshly squeezed lemons, this Sparkling Blueberry Lemonade is a perfect blend of tart and sweet.
Ingredients
1 c. fresh or frozen blueberries
3 T. fresh mint, crushed
1-2 T. real maple syrup
3 T. honey, preferably local
3 c. water, divided
½ c. fresh lemon juice
1 c. club soda
Ice cubes, to serve
Optional Garnish:
Mint sprigs
Fresh blueberries
Lemon wedges
Instructions
To prepare the blueberry maple simple syrup, combine the blueberries, mint, maple syrup, honey, and one quarter cup water in a small saucepan set over medium heat.
Simmer until the mixture is heated through and starts to thicken, approximately 4-5 minutes. As the mixture simmers, gently press the blueberries with a wooden spoon to release juices while stirring to combine with the other ingredients.
Remove from heat and pour through a fine mesh strainer to separate the solids. Reserve remaining liquid syrup and set aside to cool.
Add lemon juice and remaining water to a large pitcher. Add blueberry maple simple syrup, to taste, and stir to combine.
Fill 4 glasses with ice and fill each 2/3 full with the blueberry lemonade mixture. Top off each glass with some club soda and garnish with sprigs of fresh mint, blueberries, and/or lemon wedges, if desired. Enjoy!
Recommended Products
As an Amazon Associate and member of other affiliate programs, I earn from qualifying purchases.
Nutrition Information:
Yield:

4
Serving Size:

1
Amount Per Serving:
Calories:

110
Total Fat:

0g
Saturated Fat:

0g
Trans Fat:

0g
Unsaturated Fat:

0g
Cholesterol:

0mg
Sodium:

12mg
Carbohydrates:

29g
Fiber:

2g
Sugar:

24g
Protein:

1g
Nutrient values are only estimates provided by online calculators. Various factors can change the nutritional information in any given recipe.