Pre Writing Activities For Preschoolers
Even before your preschooler starts the write, they need to begin mastering handwriting skills with pre writing activities.
Doing a hands-on approach to pre-writing strokes for preschoolers is key in helping them develop the basic skills for handwriting. This post contains affiliate links.
Be sure to check out our other fun family-friendly kid activities and crafts!
Pre Writing Activities For Preschoolers
Handwriting is one of the most important skills your child will ever learn in their academic life. But the beginning of handwriting starts long before your child ever learns to write their first letter.
Heather Greutman, a Certified Occupational Therapy Assistant and blogger at Growing Hands On Kids, developed this book to help your children start their handwriting careers.
In Basic Shapes for Beginners, you will learn the age appropriate and developmentally appropriate ways to encourage pre-writing skills with your toddler and preschooler that are hands-on and fun.
The book is designed for ages 2-5 to be completed in 6 weeks and includes a resource list, items needed organized by week and printables for designated activities.
On this 6 week journey you will be introducing the following pre-writing lines to your child:
Vertical & Horizontal Lines

Circle Shapes

Cross (+) Shapes

Squares & Rectangles

Diagonal Lines & "X" Shapes

Triangles & Diamonds
Your toddler and preschool age child will have fun learning these basic pre-writing lines and shapes while working on some important developmental skills such as fine motor strengthening, dexterity, manipulation, and basic letter formation through exposure to a variety of sensory experiences.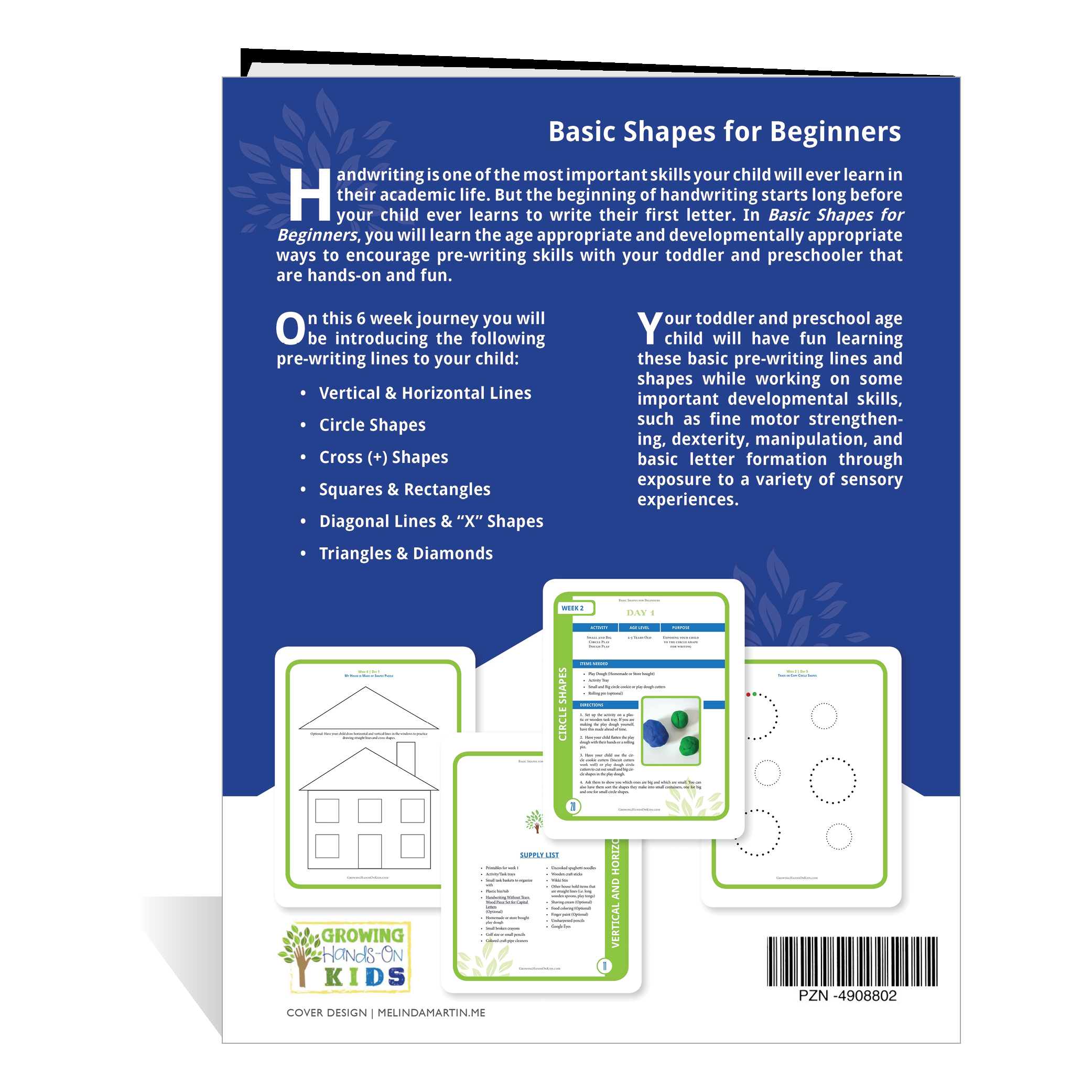 Skills your child will be working on include:
Fine Motor Strengthening, Dexterity, Manipulation
Basic letter formation skills through sensory and fine motor skill practice in a developmental sequence
Following directions (mostly verbal given by parent – correct verbiage included)
Exposure to a variety of sensory input
What's Included?
There are 5 activities included in each week, along with 1 bonus activity for each week. There are also 3 bonus activities at the end of the ebook that you can use for kids who are older or ahead.
Basic Shapes for Beginners is designed for preschool age children age 2-5. Some of the activities are designed for the older end of that age group, but the author also gives adaptation ideas to make the activities safe and fun for the younger ages.
You can also purchase this book in Full Color Paperback.
For additional pre-writing practice, consider the following: