First 100 Words Board Books
First 100 Words Board Books, where early learning and exploration come together in a delightful way, are carefully crafted to introduce the youngest readers to the magic of language and the joy of discovering their first words. Board books are perfect for little hands learning their words.
With vibrant illustrations and simple, engaging text, these books provide a wonderful platform for toddlers and preschoolers to build their vocabulary and develop essential early literacy skills.
You can find these first 100 words board books at your local library or through the affiliate links provided for your convenience.
Join us on a journey of discovery as we dive into the world of "First 100 Words Board Books" and set the stage for a lifelong love of reading and learning.
Why are the First 100 Words with Pictures Important?
The first 100 words with important are important for babies as they mark the beginning of their language development journey. Here's why these early words matter!
Foundation for Language: Babies are born with the capacity to learn any language, but exposure to language is essential for them to develop their own communication skills. The first 100 words provide a foundational vocabulary that babies will build upon as they grow.
Communication: Babies start communicating from birth through gestures, sounds and eventually words. The first 100 words are their initial tools for expressing basic needs and desires, such as hunger, discomfort or affection.
Social Interaction: Learning words is closely linked to social interaction. Babies begin to understand that words convey meaning and can be used to engage with caregivers and others around them. This early social interaction is critical for bonding and emotional development.
My First Touch and Feel Picture Cards: First Words (My First Board Books)

Baby's First Words Wooden Magnetic Shapes

50 First Words Flashcards: Scholastic Early Learners (Flashcards)

LeapFrog Learning Friends 100 Words Book (Frustration Free Packaging), Green

Cognitive Development: Language development is closely tied to cognitive development. Learning words helps babies organize their thoughts and understand the world around them. It also forms the basis for more complex thinking and problem-solving as they grow.
Preparation for Literacy: A strong foundation in spoken language is crucial for later literacy development. Babies who are exposed to a rich vocabulary from an early age are more likely to develop strong reading and writing skills as they enter school.
Parent-Child Bonding: Interacting with babies through speech and language helps strengthen the bond between parents or caregivers and the child. Babies respond to the sound of their caregivers' voices, and this interaction promotes a sense of security and attachment.
Listening Skills: Learning words involves active listening. Babies become attuned to the sounds and rhythms of their native language, which is an important skill for comprehension and communication.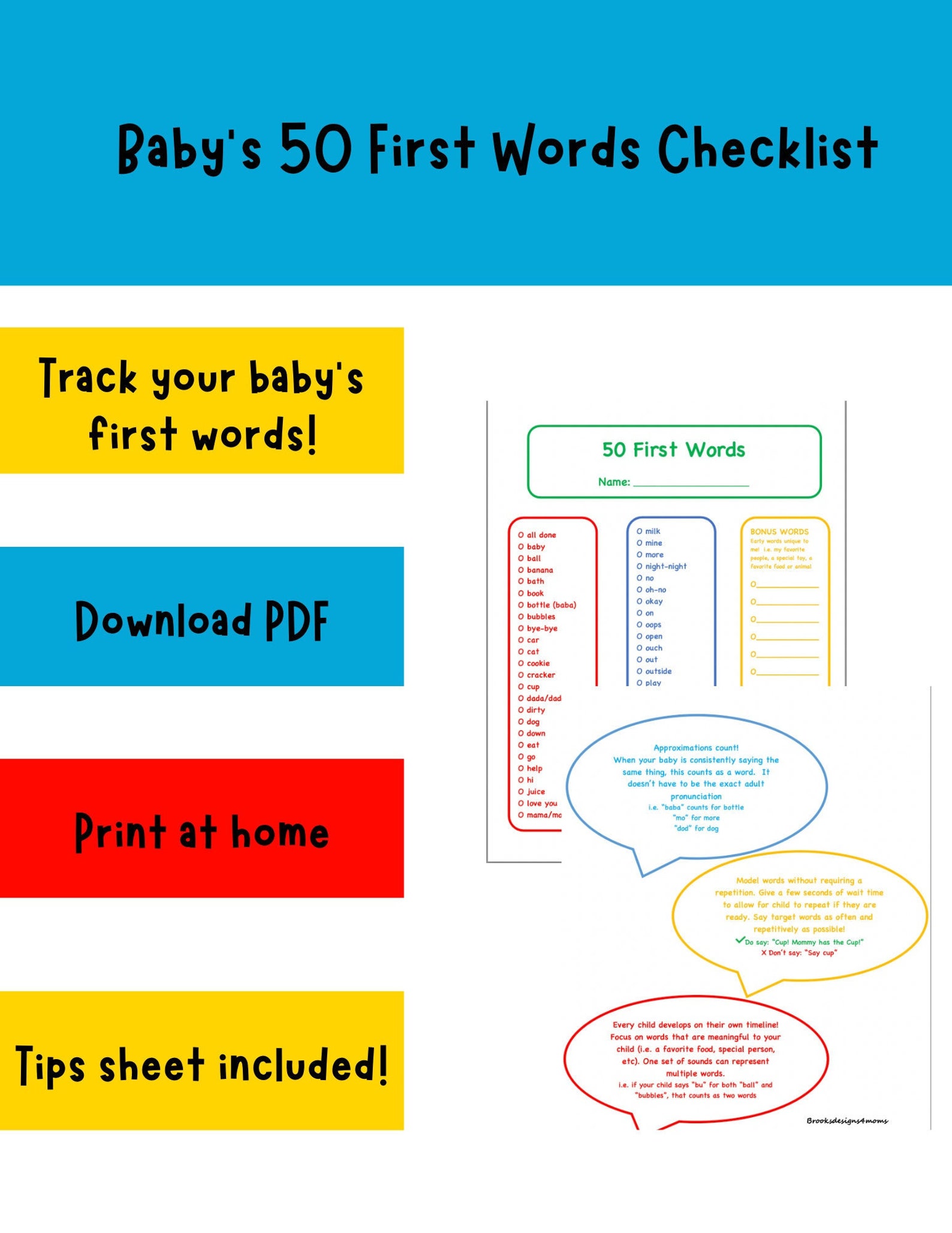 50 Baby's First Words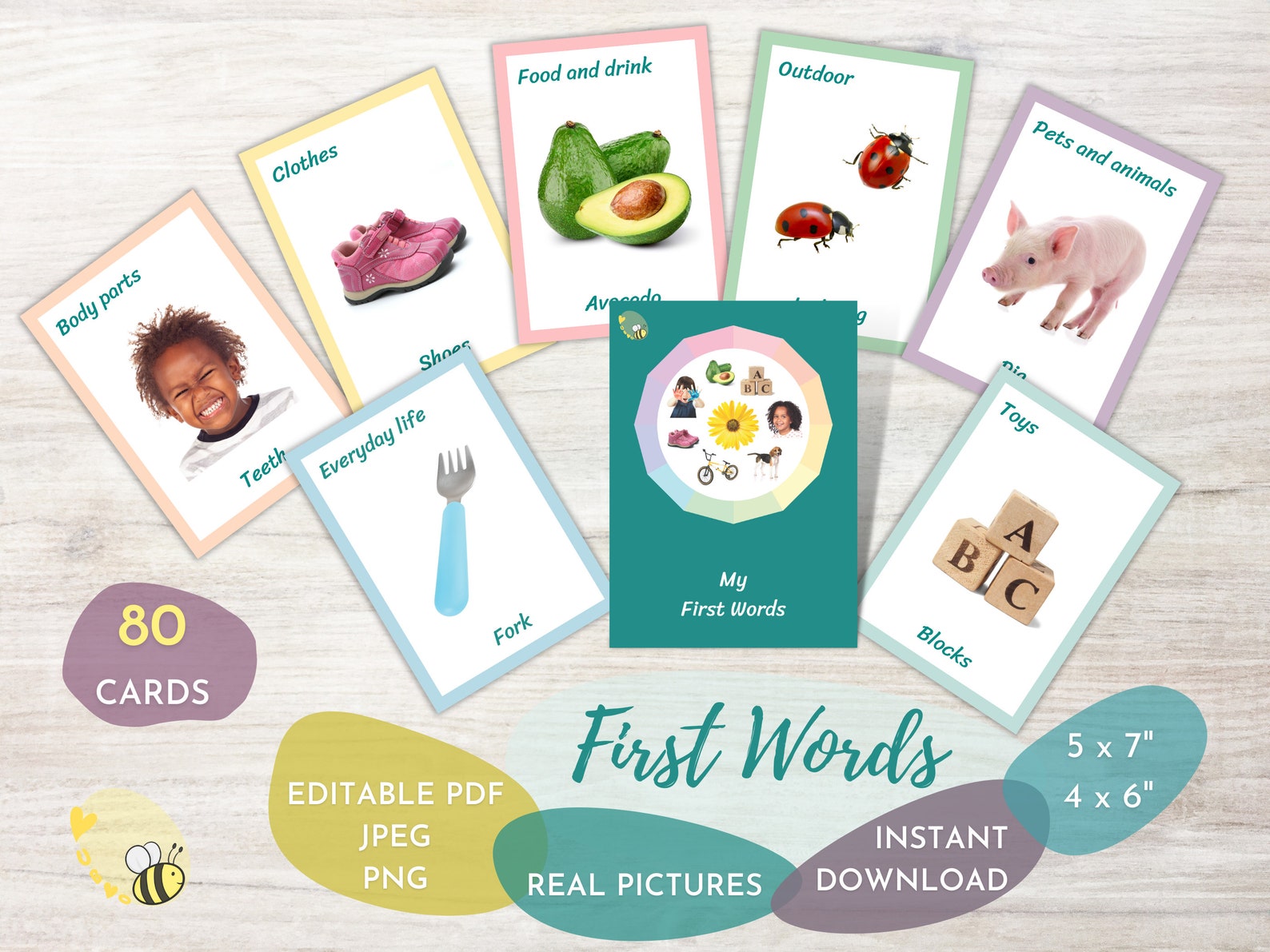 FIRST WORDS with Real Picture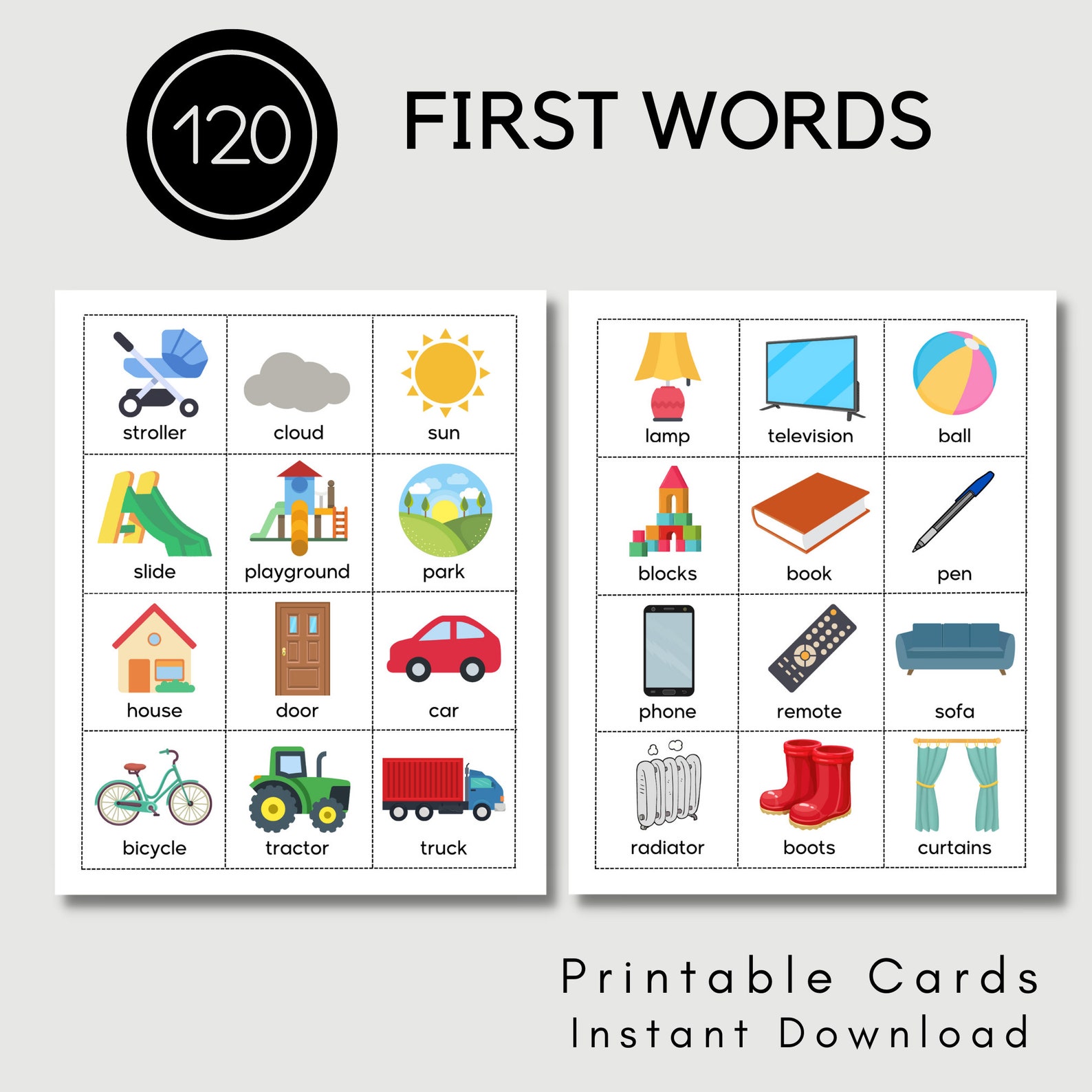 First Words Printable Cards Alphabet Flash Cards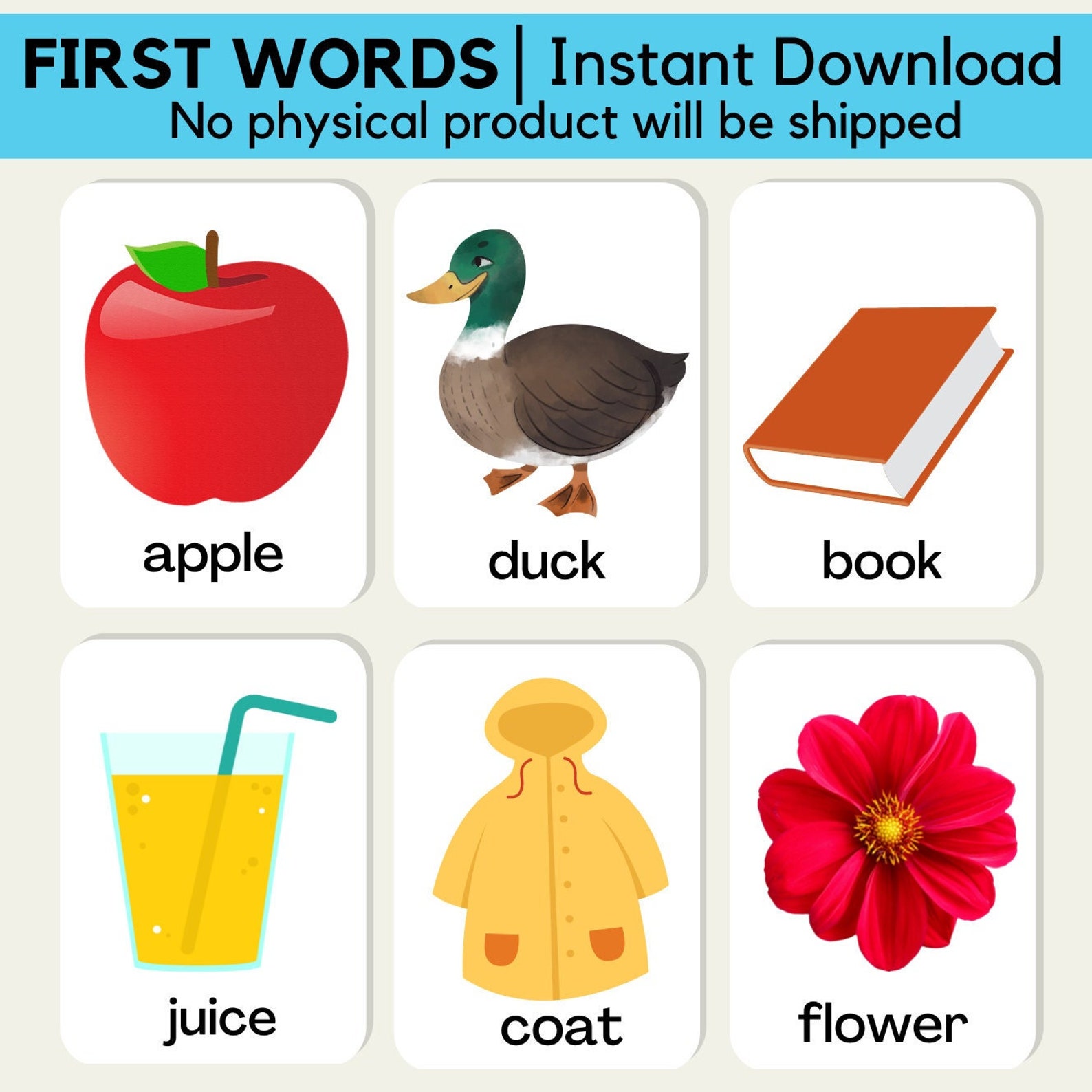 First Words Alphabet Flash Cards

Really, the first 100 words are the building blocks of a baby's language development. They provide the tools for communication, social interaction, cognitive growth, and the foundation for future literacy skills.
Parents and caregivers play a crucial role in introducing these early words and fostering a rich linguistic environment for their babies to thrive.
What are the first 100 words speech and language
The concept of the "first 100 words" in speech and language development typically refers to the initial vocabulary that children begin to acquire and use in their early years of life.
These words are often simple and fundamental, laying the foundation for more complex language skills.
My son didn't follow these "rules" and the first word he signed and said was apple (which sounded like appah). Kids will pick what's important to them.
That said, here's a list of common words that are among the first 100 words for many children:
Mommy
Daddy
Baby
Dog
Cat
Ball
Milk
Juice
More
All done
Hi
Bye
Yes
No
Please
Thank you
Sorry
Help
Up
Down
Hot
Cold
Eat
Drink
Bath
Bed
Book
Toy
Shoes
Hat
Coat
Sock
Pants
Shirt
Nose
Eye
Ear
Mouth
Teeth
Hair
Belly
Arm
Leg
Hand
Foot
Baby
Friend
Happy
Sad
Big
Small
More
All gone
Open
Close
In
Out
On
Off
Stop
Go
Mine
His
Hers
Theirs
Ours
That
This
Here
There
What
Where
Who
Why
How
When
Up
Down
Over
Under
Again
More
All done
Please
Thank you
Sorry
Excuse me
Goodbye
Hello
Yes
No
I
You
He
She
It
We
They
Me
Us
LeapFrog 100 Words and 100 Animals Book Set (Frustration Free Packaging)

My First Library : Boxset of 10 Board Books for Kids

LeapFrog 100 Words About Places I Go Book

100 First Words Flash Cards for Toddlers

It's important to note that the order in which children acquire these words can vary, and not all children will have the exact same first 100 words. So your child will follow their own path for their first 100 words.
Speech and language development is highly individual, influenced by factors like exposure to language, interactions with caregivers, and personal interests.
These early words provide the foundation for more advanced language skills, including grammar, vocabulary, and communication abilities as children continue to grow and develop.
First 100 Words Board Books