Top 13 Banned Books of 2022
Welcome to a glimpse into the literary world's most controversial and thought-provoking titles of 2022 — the most banned books.
While books have the power to enlighten, inspire and challenge our perspectives, they can also ignite debate and, in some cases, face censorship.
Learn how to speak out again book bans in your school! Visit Unite Against Book Bans.
You can find these banned books at your local library or through the affiliate links provided for your convenience.
From contemporary fiction to classic literature, these books have sparked discussions on issues ranging from social justice and racial equity to gender identity and political ideology.
Banned Books Sticker
Banned Book Coffee Mug
Banned Book Puzzle
I'm With The Banned Books T-Shirt
While their presence on banned books lists may reflect societal discomfort or differing views, it also underscores the importance of free expression and the power of literature to provoke meaningful conversations.
Why Read Banned Books?
Reading banned books is important for several reasons!
Preserving Freedom of Expression: Challenged books often face censorship due to controversial themes, ideas, or content. By reading these books, individuals can actively support and uphold the fundamental right to freedom of expression. It sends a message that we value diverse voices and the open exchange of ideas.
Critical Thinking: Banned books often challenge societal norms and provoke critical thinking. They encourage readers to question assumptions, consider different perspectives and engage in thoughtful discussions about complex issues. These books can help develop analytical and reasoning skills.
Understanding History: Many books have been banned or censored because they address uncomfortable truths about history, society or government. Reading challenged books can provide insight into historical events, social injustices and political controversies, helping us learn from the past.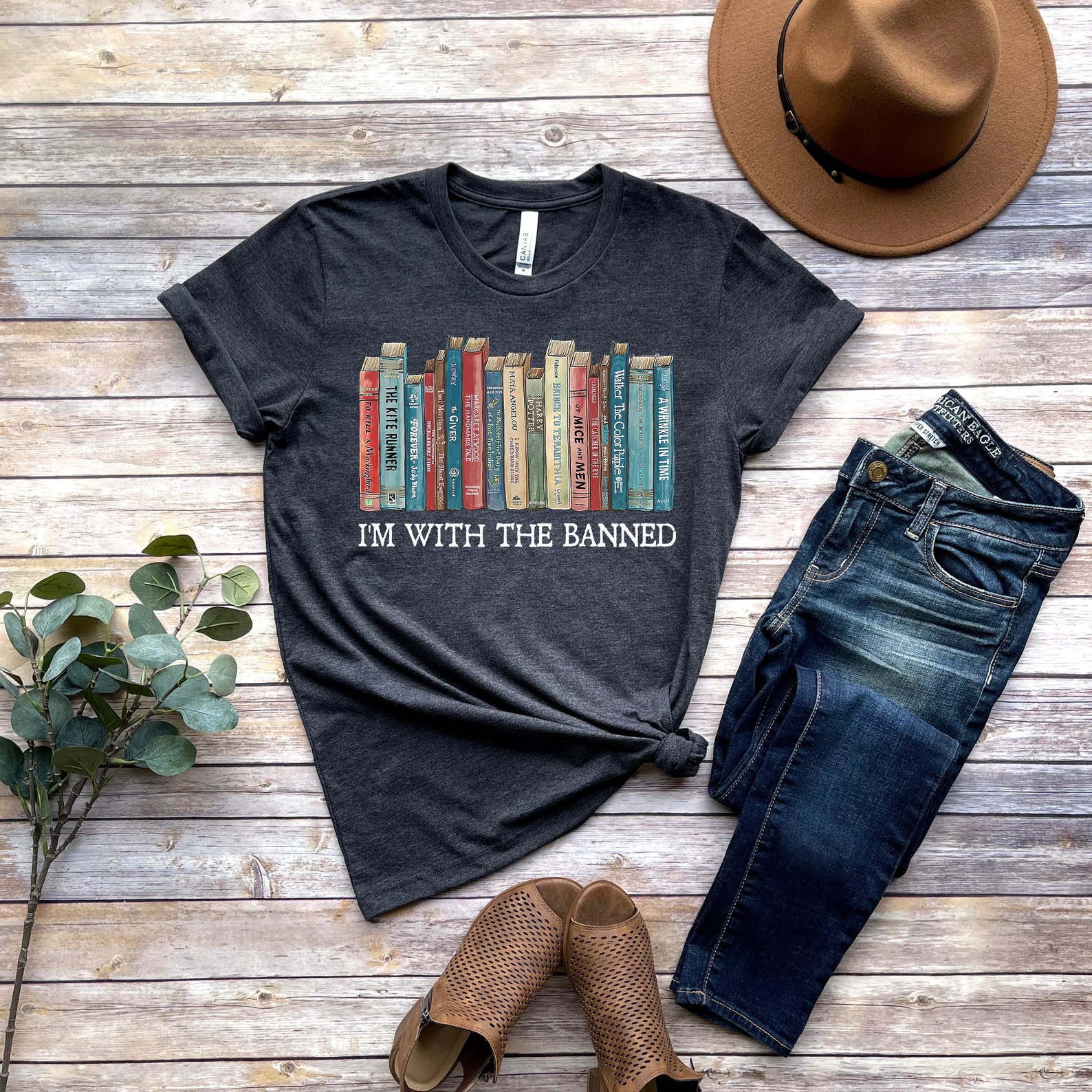 I'm With The Banned T-Shirt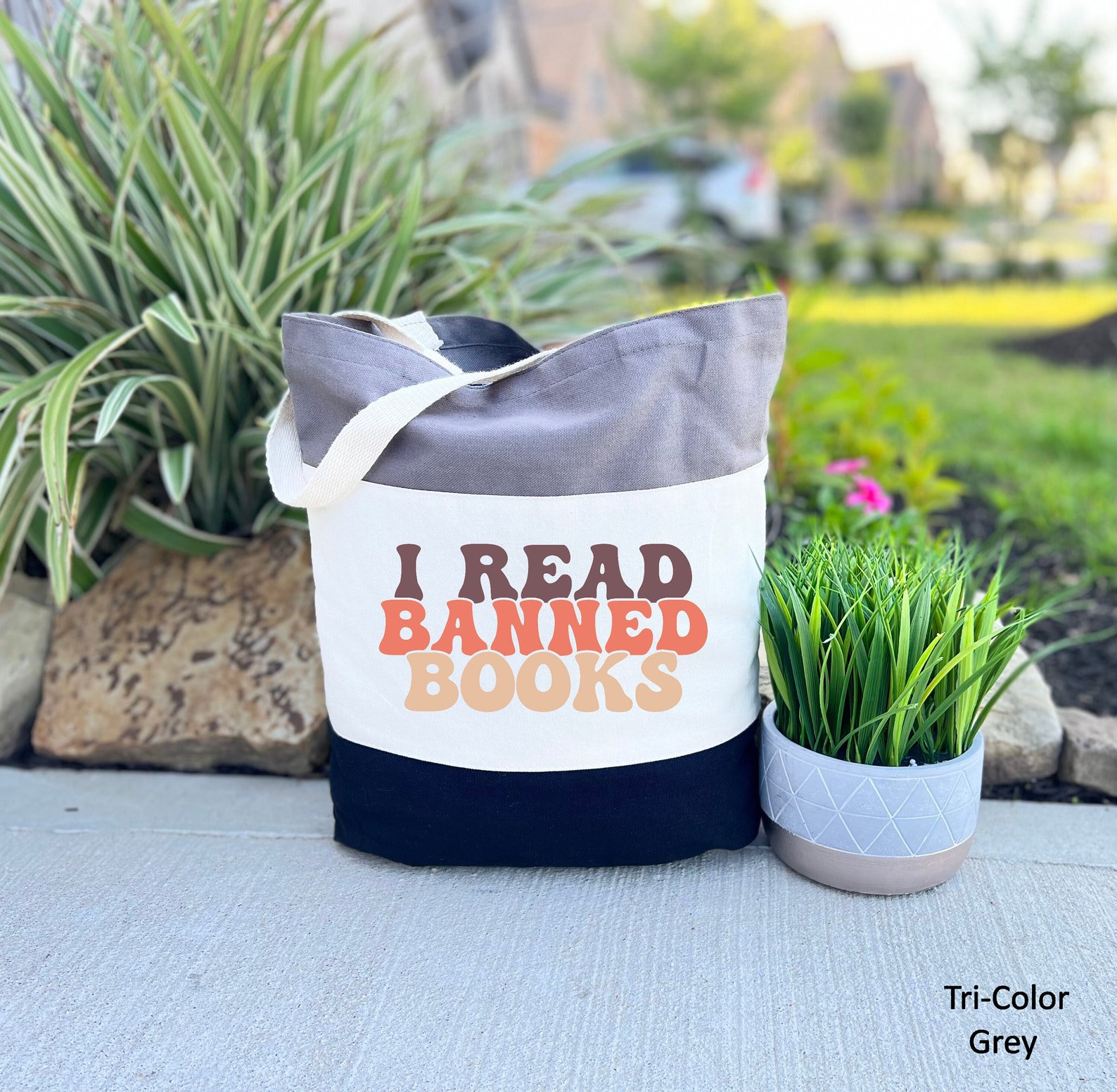 I Read Banned Books Tote Bag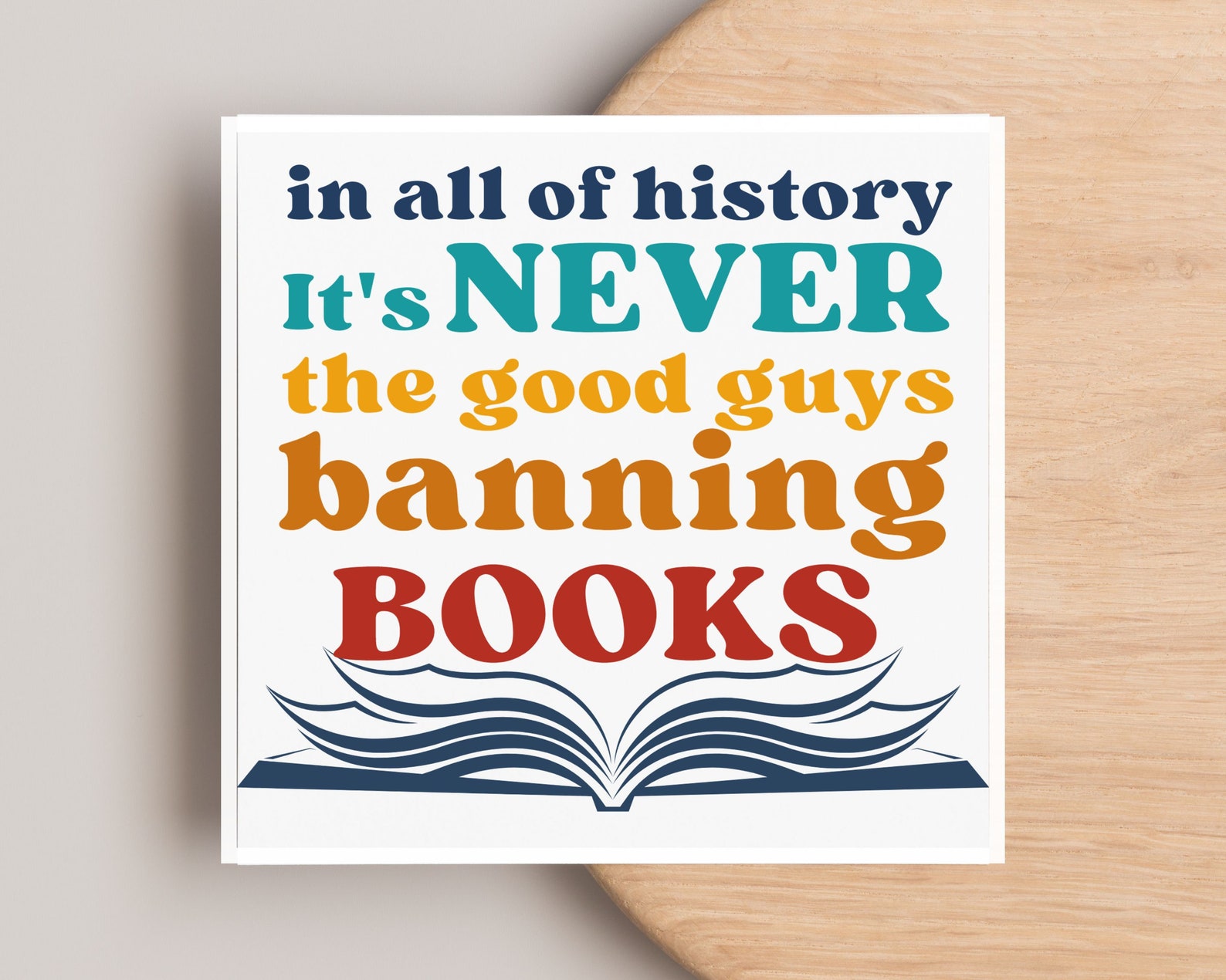 Retro 80s Banned Books Sticker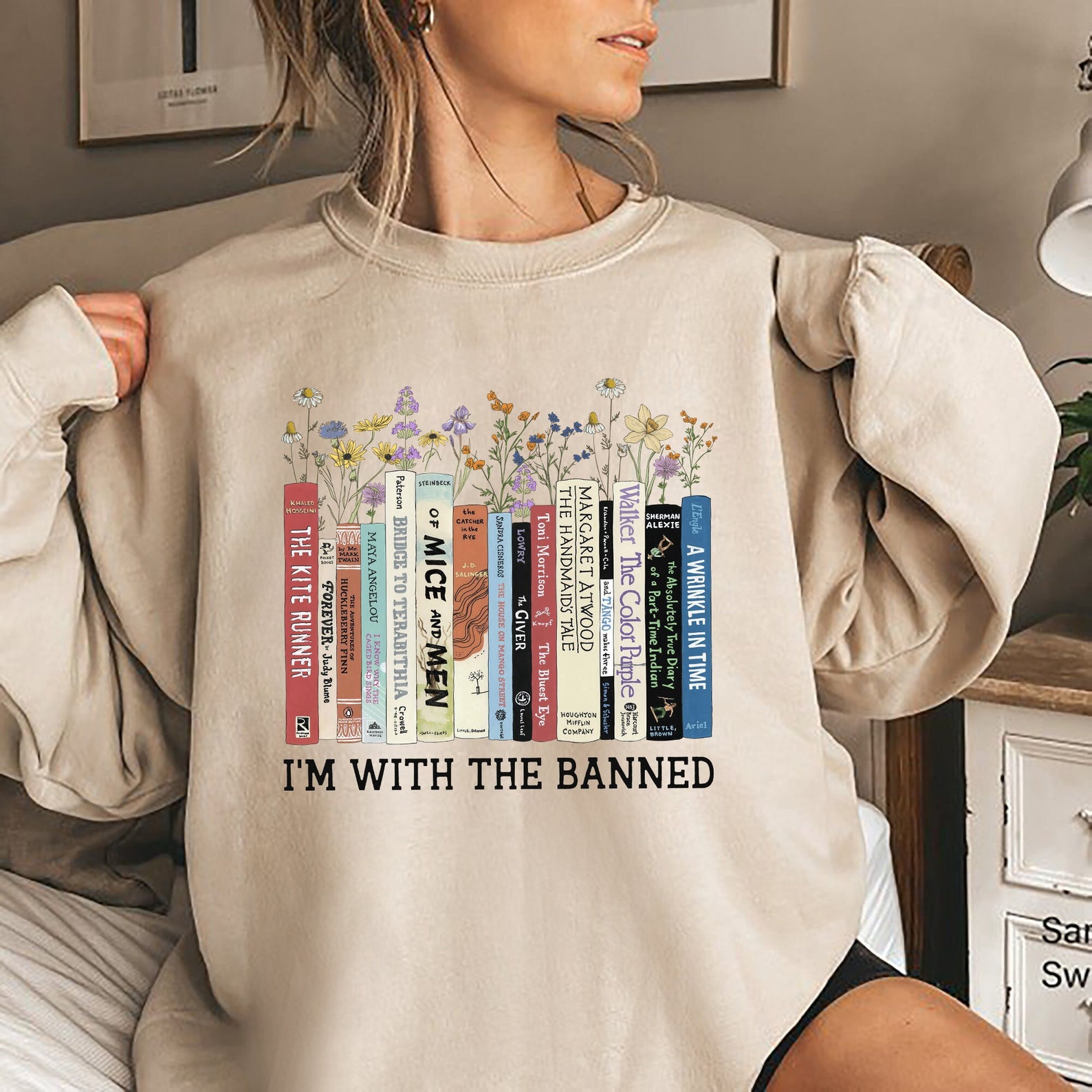 I'm With The Banned Books Sweatshirt
Empathy and Perspective: Banned books often feature characters who are marginalized or face discrimination. Reading these books can foster empathy and understanding for individuals from diverse backgrounds, promoting inclusivity and compassion.
Fostering a Love of Reading: Controversy often piques interest. When a book is banned or challenged, it can generate curiosity and enthusiasm for reading. Encouraging individuals, especially young readers, to explore these books can instill a lifelong love of literature.
Awareness of Censorship: Reading challenged books raises awareness of censorship issues. It allows individuals to recognize the limits placed on freedom of speech and encourages activism to protect this fundamental right.
Banned Books Sticker
Banned Book Coffee Mug
Banned Book Puzzle
I'm With The Banned Books T-Shirt
Broadening Horizons: Banned books often explore topics and themes that may not be commonly discussed. Reading them broadens readers' horizons, exposing them to new ideas, cultures and experiences.
Encouraging Dialogue: Engaging with challenged books can foster open and honest discussions about sensitive topics. It provides an opportunity for individuals, schools, and communities to address concerns, promote tolerance, and find common ground.
In essence, reading banned books is an act of intellectual freedom and a celebration of the diverse and challenging narratives that make up our literary landscape. It allows individuals to think critically, empathize with others, and contribute to a more informed and open society.
Join us as we delve into these literary works, not only to understand why they have sparked controversy but also to appreciate the diverse voices and perspectives they represent.
In exploring the most banned books of 2022, we invite you to reflect on the vital role literature plays in challenging norms, broadening horizons, and ultimately, shaping the future.
Top 13 Banned Books of 2022
The American Library Association documented 1,269 demands to censor library books and resources in 2022, the highest number of attempted book bans since ALA began compiling data about censorship in libraries more than 20 years ago.
The unparalleled number of reported book challenges in 2022 nearly doubles the 729 book challenges reported in 2021.
Of the record 2,571 unique titles targeted for censorship, the most challenged and reasons cited for censoring the books are listed below.
2020 ALA Alex Award Winner * 2020 Stonewall — Israel Fishman Non-fiction Award Honor Book
Started as a way to explain to eir family what it means to be nonbinary and asexual, Gender Queer is more than a personal story: it is a useful and touching guide on gender identity — what it means and how to think about it—for advocates, friends, and humans everywhere.
People Magazine Best Book of the Summer * A New York Library Best Book of 2020 * A Chicago Public Library Best Book of 2020 * and MORE
From the memories of getting his teeth kicked out by bullies at age five, to flea marketing with his loving grandmother, to his first sexual relationships, this young-adult memoir weaves together the trials and triumphs faced by Black queer boys.
A PARADE BEST BOOK OF ALL TIME
Pecola Breedlove — an 11-year-old Black girl in an America whose love for its blond, blue-eyed children can devastate all others — prays for her eyes to turn blue: so that she will be beautiful, so that people will look at her, so that her world will be different. This is the story of the nightmare at the heart of her yearning, and the tragedy of its fulfillment.
It's the summer between middle school and high school, and Aiden Navarro is away at camp. Everyone's going through changes―but for Aiden, the stakes feel higher. As he navigates friendships, deals with bullies, and spends time with Elias (a boy he can't stop thinking about), he finds himself on a path of self-discovery and acceptance.
NPR's Top Ten Best-Ever Teen Novels • TIME magazine's 100 Best Young Adult Novels of All Time * A PBS Great American Read Selection * and MORE
Miles Halter is fascinated by famous last words—and tired of his safe life at home. He leaves for boarding school to seek what the dying poet François Rabelais called "The Great Perhaps." Much awaits Miles at Culver Creek, including Alaska Young, who will pull Miles into her labyrinth and catapult him into the Great Perhaps. 
The critically acclaimed debut novel from Stephen Chbosky follows observant "wallflower" Charlie as he charts a course through the strange world between adolescence and adulthood. First dates, family drama, and new friends. Sex, drugs, and The Rocky Horror Picture Show.
Devastating loss, young love, and life on the fringes. Caught between trying to live his life and trying to run from it, Charlie must learn to navigate those wild and poignant roller-coaster days known as growing up.
This award-winning coming-of-age novel takes readers into the heart and humor of a young man determined to achieve the ever-changing American dream. He just happens to find himself along the way.
Funny, biting, sweet, and ultimately inspiring novel, bestselling author Jonathan Evison's coming-of-age novel evokes the lives of working class people with compassion and honesty. 
A National Book Award winner * A Boston Globe-Horn Book Award winner
Heartbreaking, funny, and beautifully written, The Absolutely True Diary of a Part-Time Indian, which is based on the author's own experiences, coupled with poignant drawings by Ellen Forney that reflect the character's art, chronicles the contemporary adolescence of one Native American boy as he attempts to break away from the life he was destined to live.
A Michael L. Printz Honor Book
New London, Texas. 1937. Naomi Vargas and Wash Fuller know about the lines in East Texas as well as anyone. They know the signs that mark them. They know the people who enforce them. But sometimes the attraction between two people is so powerful it breaks through even the most entrenched color lines. And the consequences can be explosive.
Feyre survived Amarantha's clutches to return to the Spring Court - but at a steep cost. Though she now has the powers of the High Fae, her heart remains human, and it can't forget the terrible deeds she performed to save Tamlin's people.
As Feyre navigates its dark web of politics, passion, and dazzling power, a greater evil looms - and she might be key to stopping it
Kristina Snow is the perfect daughter: gifted high school junior, quiet, never any trouble. Then, Kristina meets the monster: crank. And what begins as a wild, ecstatic ride turns into a struggle through hell for her mind, her soul—her life.
Seventeen-year-old Greg has managed to become part of every social group at his Pittsburgh high school without having any friends, but his life changes when his mother forces him to befriend Rachel, a girl he once knew in Hebrew school who has leukemia. 
This candid, funny, and uncensored exploration of sexuality and what it's like to grow up LGBTQ also includes real stories from people across the gender and sexual spectrums, not to mention hilarious illustrations.