Development and Age Appropriate Toys for Infants 1-3 Months
Whether you're a new brand mom or a seasoned one with a new baby in the house, it's important to find age appropriate toys for infants that fit your child's developmental needs. Age-appropriate toys are a must!
The first three months of a child's life is full of discovery and becoming acquainted with his or her surroundings and family members.
It is a time of wonder and understanding of this new world that can be very tiring for your baby with many hours left to sleep.
This post contains affiliate links.
Interaction with your baby is always important, but it is especially important in the first months of development – this is the foundation.
Fortunately, there are many toys on the market that can assist you and your baby with a healthy start in his or her development.
Should Baby Toys Be Colorful?
My goodness YES! Infant toys are often designed with vibrant colors for several good reasons:
Visual Stimulation: Bright and contrasting colors, such as red, black, white and bold primary colors, are visually stimulating for infants. They will catch your baby's attention and help develop their visual tracking skills as they follow the colors with their eyes.
Interest and Engagement: Colorful toys can pique your baby's curiosity and encourage exploration. Infants are naturally drawn to objects with eye-catching colors.
Developmental Benefits: Exposure to a variety of colors supports the development of your baby's color recognition skills and can contribute to cognitive development.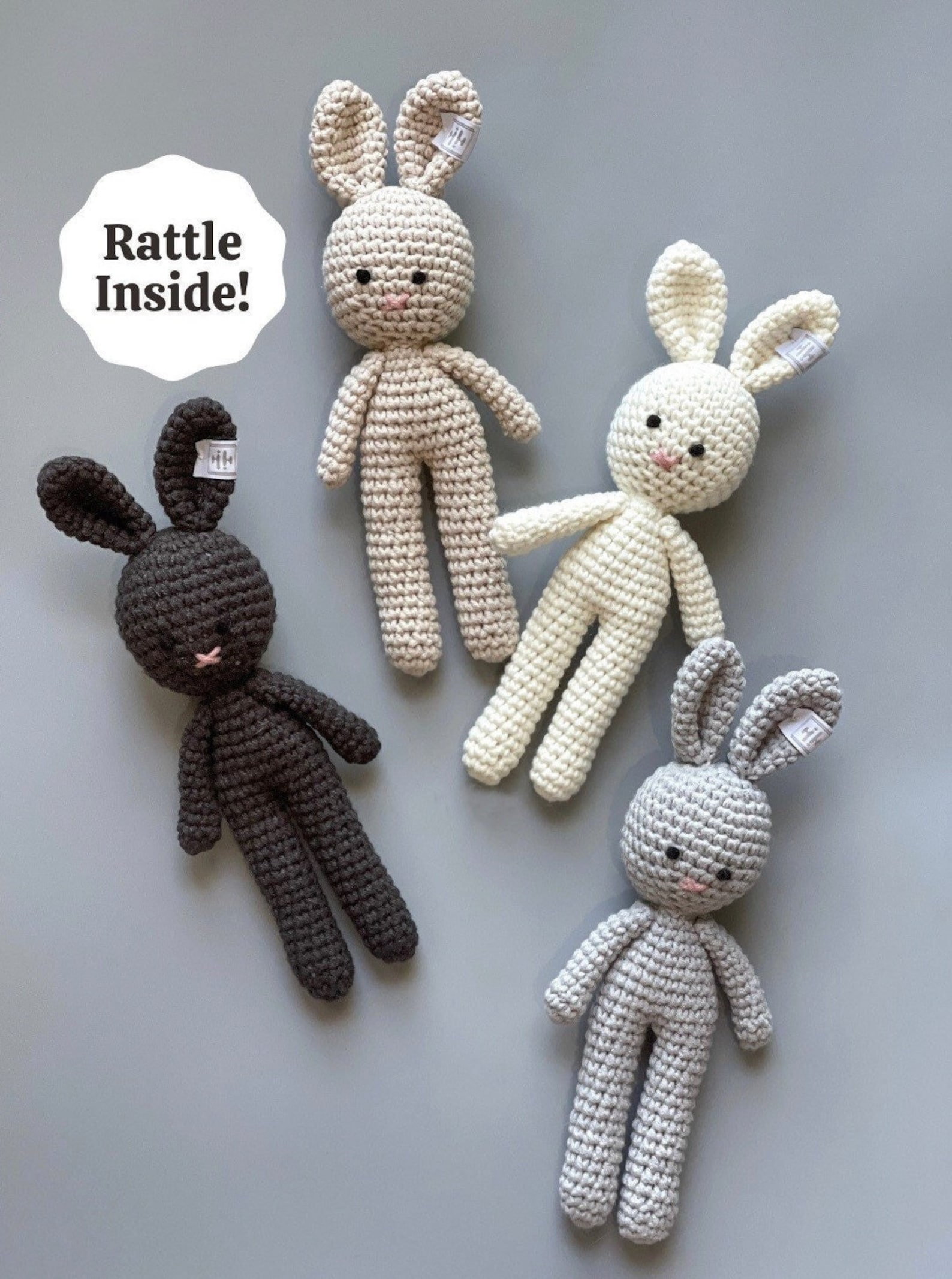 Bunny Lovey Baby Infant Rattle Toy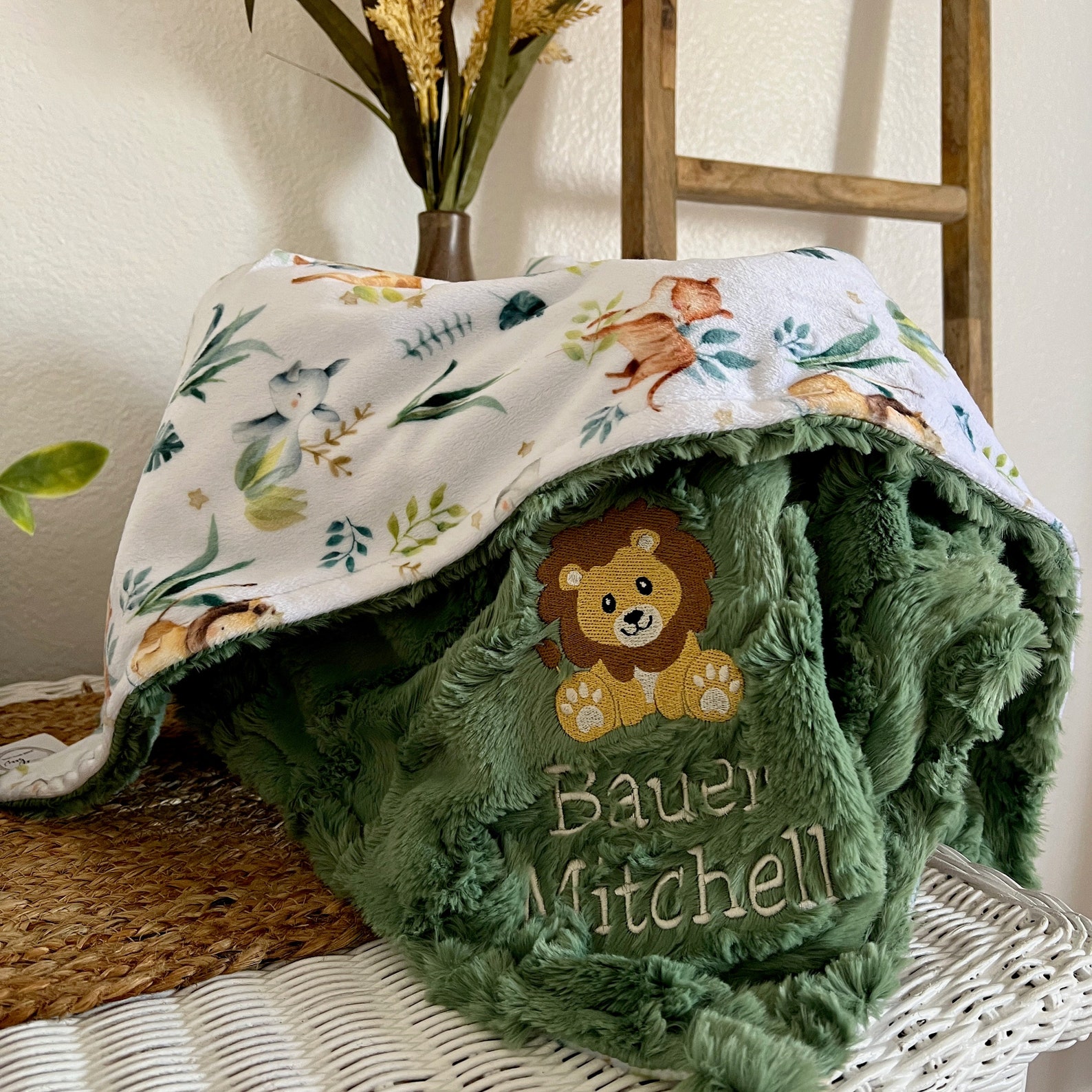 Safari Personalized Baby Blanket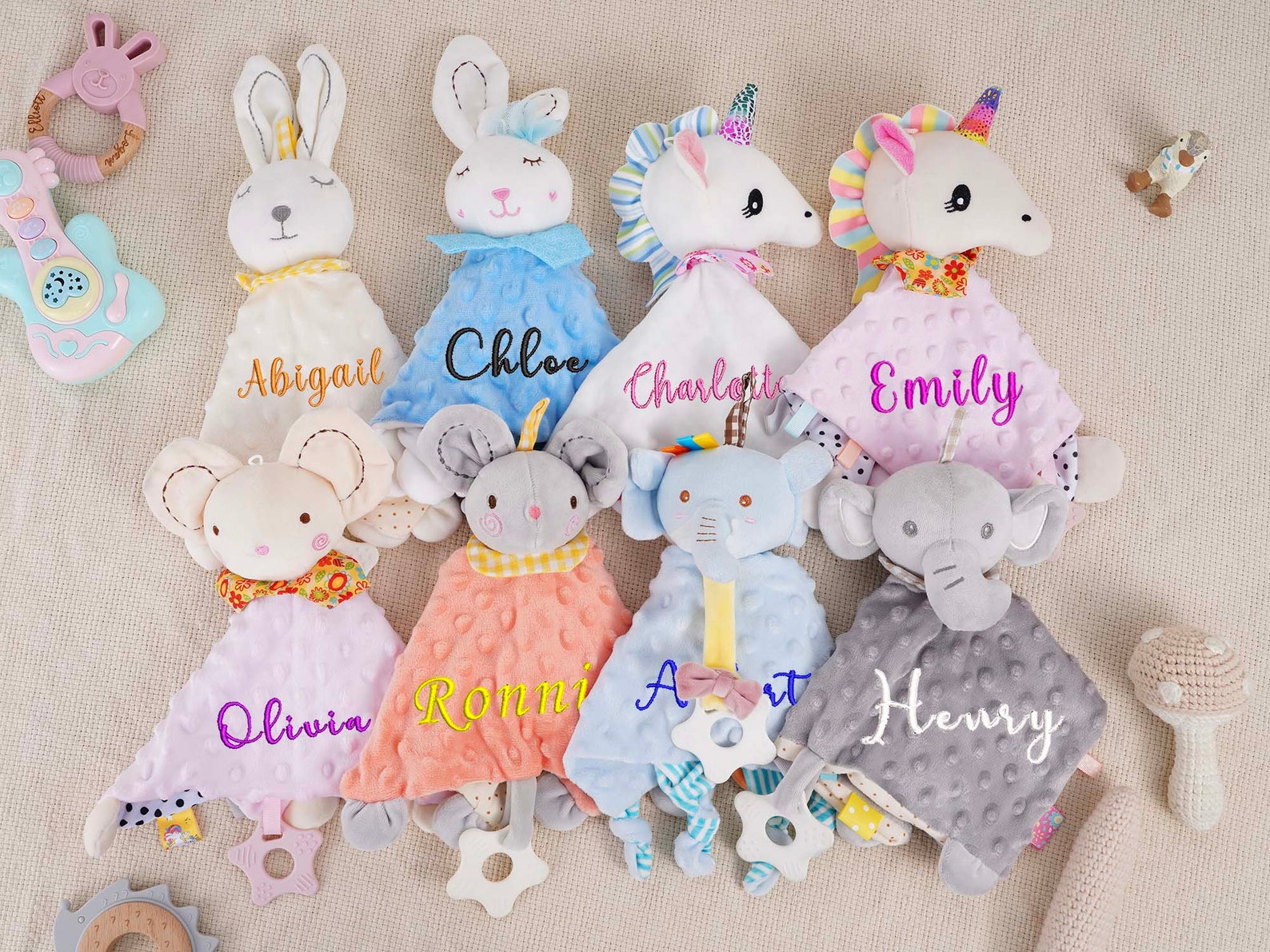 Personalised Stuffed Animal Comforter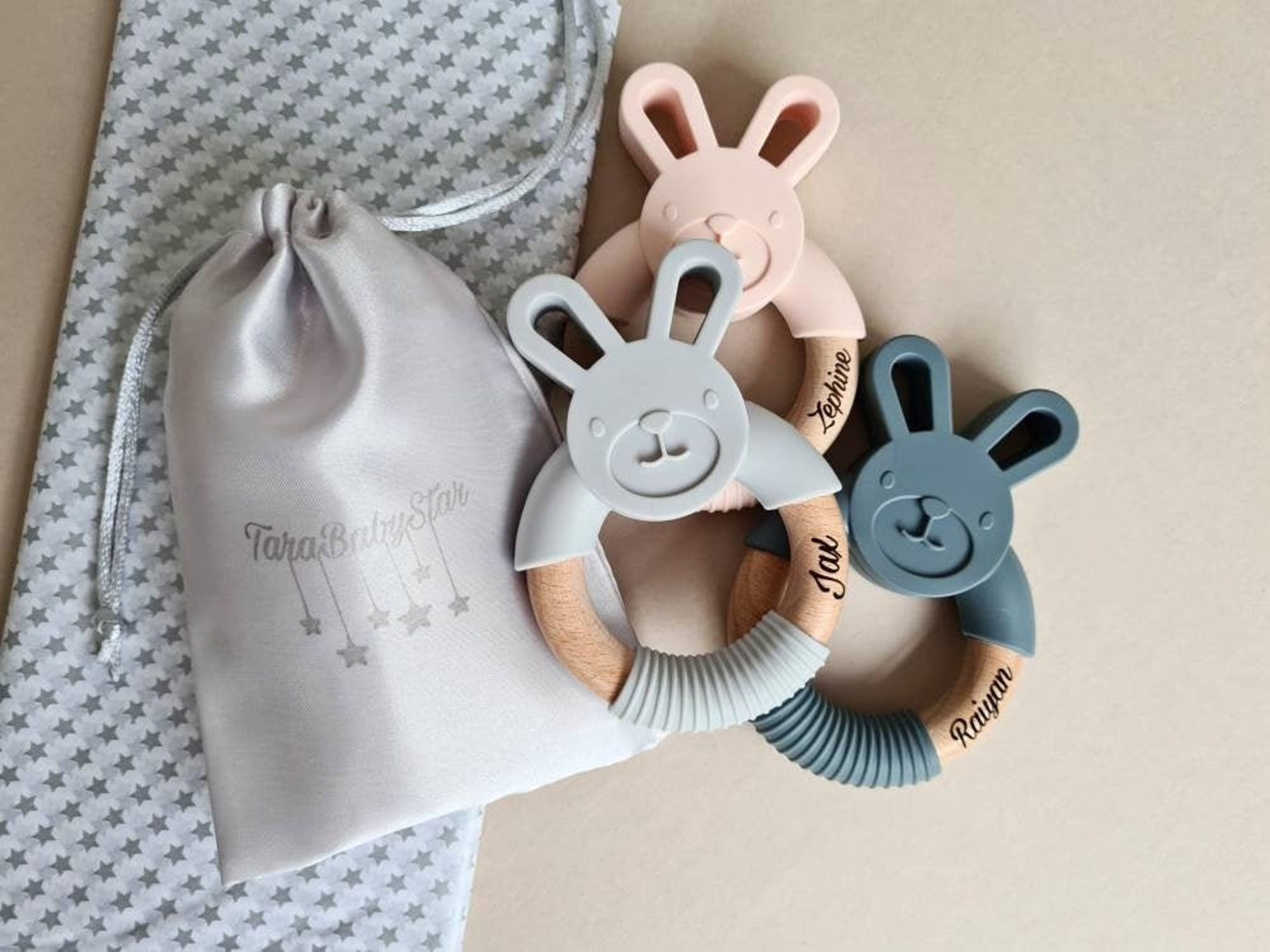 Welcome to the World Gift / teether and toy
Sensory Exploration: Colorful toys often have different textures and patterns, which provide opportunities for sensory exploration through touch as well.
Emotional Response: Some colors can evoke emotions or feelings in babies. For example, bright, cheerful colors can elicit positive responses and create a happy, engaging environment.
While colorful toys are beneficial, it's also important not to overwhelm an infant with too many bright and busy toys at once. Babies need moments of visual simplicity to rest their eyes.
Additionally, always ensure that toys are safe, free from small parts that could be a choking hazard, and made from non-toxic materials. The key is to strike a balance between providing visual stimulation and allowing for moments of visual calm in an infant's environment.
Development and Age Appropriate Toys for Infants 1-3 Months
Toys for infants aged 1-3 months should focus on sensory exploration and provide gentle stimulation to encourage their development. Here are some developmentally and age appropriate toys for infants:
Soft Toys: Plush animals or soft, textured toys are great for cuddling and exploring with their tiny hands.
High-Contrast Toys: Infants are drawn to high-contrast colors, so toys with bold patterns or black-and-white designs can captivate their attention.
Mobiles: Hanging mobiles with soft, dangling objects can help develop visual tracking as babies follow the movement with their eyes.
Fisher-Price Baby Playmat Deluxe
Baby Einstein 4-in-1 Kickin' Tunes Music and Language Play Gym
Fisher-Price Baby Playmat Perfect Sense Deluxe Gym
Ingenuity Cozy Spot Reversible Duvet Activity Gym & Play Mat
Rattles: Lightweight, easy-to-grasp rattles with gentle sounds can engage a baby's auditory senses and encourage them to practice gripping.
Mirrors: Baby-safe, unbreakable mirrors can introduce babies to their own reflections and stimulate visual curiosity.
Soft Books: Cloth or board books with simple, contrasting images can promote early visual development and tactile exploration.
Baby Gyms: Activity gyms with hanging toys and mirrors can encourage reaching, batting, and kicking as babies lie on their backs.
Textures and Fabrics: Toys with different textures, such as crinkly fabric or silky ribbons, can provide tactile stimulation.
Sensory Balls: Soft, squeezable balls with various textures and colors are easy for tiny hands to grasp and explore.
Teething Toys (for later months): Around 3 months, some babies start teething, so safe, BPA-free teething toys can be introduced.
Always prioritize safety when selecting toys for infants. Ensure that toys are free from small parts that could be a choking hazard, and choose toys made from non-toxic materials.
Also, remember that at this stage, an infant's primary source of stimulation and learning comes from interactions with caregivers, so toys should complement these interactions rather than replace them.
Toys for Baby's 1st Month
During the first month, did you know a baby can only see objects that are up to 10 inches away!
Seeing colors is not fully developed, but your baby will begin to use his or her senses, start developing fine and gross motor skills, begin to understand reaction and response to increase communication, and start to develop his or her own personality.
Fisher-Price Sound Machine Calming Clouds Mobile & Soother
The Peanutshell Safari Animals Musical Crib Mobile
Nursery Mobile for Crib with Music Motor Spinner
Tiny Love Meadow Days Take Along Mobile
The toys that can entice your baby during this month of discovery are different mobiles that can attach to a variety of cribs that spin and play soothing music, soothing toys that attach to a crib to play relaxing music during sleep time, and mini play gyms with simple black and white patterns where your baby can begin to develop recognition.
We had the aquarium that connected to my sons' cribs and it was a favorite toys for a long time!
Age Appropriate Toys for Infants at the Second Month
As your baby begins to enter his or her second month, the world becomes filled with even more sounds for voice recognition, and beginning of social skills like smiles and excitement.
This is the time when more colors can be seen for greater brain stimulation in this world of discovery.
At this age, you may want to get toys that not only soothe your child during sleep time with music and different sounds, but toy gyms that encourage more interactive play, as well as toy rattles.
Bright Starts Oball Shaker Rattle
SmartNoggin NogginStik Developmental Light-Up Rattle for Infants
Bright Starts Oball Easy-Grasp Rattle
Sassy My First Rattles Newborn Gift Set
Some babies at this age may also begin teething, so teethers are great toys that are safe for your baby to put in his or her mouth.
My friend gave us a Tiffany moon-shaped rattle when my first son was born and it was a favorite with both of my kids.
And it's a keepsake that I just adore.
But really, any rattle is an easy win!
Developmental Toys Entering the Third Month
As your baby enters the third month of life, he or she will begin to develop more face and voice recognition, as well as be interested in other faces.
Your baby can now begin lying on his or her tummy supporting his or her neck with the elbows and chest creating a whole new way of seeing the world.
Bright Starts Disney Baby Finding Nemo Mr. Ray Ocean Lights & Music Gym
Eners Baby Gyms Play Mats Musical Activity Center
Baby Einstein 4-in-1 Kickin' Tunes Music and Language Play Gym
Tummy Time Baby Activity Gym Mat with 5 Infant Learning Sensory Baby Toys
More interactive gym floors with hanging toys that spin and make sounds, or include mirrors, can begin the development of increased physical movement.
Reaching for objects is not fully developed, but place a teether or rattle in your baby's hand and he or she will have fun waving it around to make exciting sounds.
Toys for infants aged 1-3 months should focus on sensory exploration and provide gentle stimulation.
Find more development toys for children of all ages on Mommy Evolution!