Yahoo! The Annual Best Toys for Kids Awards are out — making it easier for moms, dads and other gift-givers to make smart buying decisions for the kids!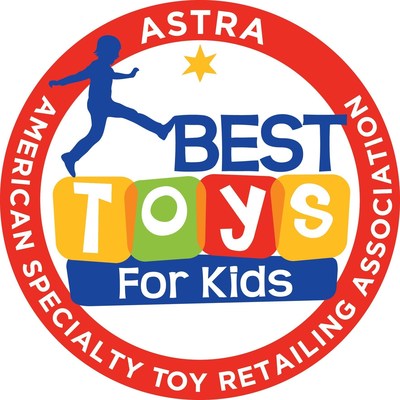 The American Specialty Toy Association (ASTRA), recognized nationwide for its prestigious annual awards program, announced its 2015 Best Toys for Kids Awards. Winners in 14 distinct categories are chosen by specialty store retailers – more than 800 men and women who understand the value of play and, day in and day out, have hands-on experience with how kids play. This post contains affiliate links.
Best Toys for Kids Awards
The Best Toys for Kids Award honors the new and improved toys that promote open-ended or creative play, incorporate innovative design features and maintain exceptional safety standards. The winners of the 2015 ASTRA Best Toys for Kids Awards are:
ACTIVE PLAY

The Swurfer: Get outdoors and have some fun! The Swurfer by The ROB Company reinvents the American backyard swing. Use it sitting or standing. Handles adjust for any height or position. Great for a little one looking for a calm swing or a bigger one looking for excitement. Ages 6+
CHOOSE YOUR OWN CATEGORY

Mixed By Me Thinking Putty® Kit: Time to get creative!  Kids make custom Thinking Putty® colors with this brand-new kit from Crazy Aaron's Puttyworld. With five tins of clear putty, three concentrated color putties, three special effect putties and an instructional mat, it includes everything kids need to make their own Thinking Putty colors! Ages 8+
CLASSIC PLAY: 0-7 YEARS
Pretend and Play Teaching Cash Register: Playing store comes to life with this talking, interactive cash register by Learning Resources that rewards transactions with lights, sounds, and voice messages. Holds actual-sized money and includes a built-in scanner, scale, coin slot, and volume control. Kids practice arithmetic and bill recognition. Requires 3 C batteries, not included.   Ages 3+

CLASSIC PLAY: 8+ YEARS
Fashion Plates Deluxe Kit: Calling all aspiring fashion designers!  Create fabulous designs with the Fashion Plates™ Deluxe Kit from Kahootz. Create one-of-a-kind looks with rubbing plates and the Fashion Plates™ tablet. Add colors and detail with artist's pencils and fashion textures.  The stylish portfolio case neatly stores your tablet, plates and tools. Ages 6+     
Mini Ogodisk: Throw, catch, and bounce! Mini Ogodisk by OgoSport, LLC is a multi-functional hand trampoline for balls.  A floatable, portable, durable and flexible game that promotes active play by bouncing balls up to 150 feet off mini trampolines. The ogodisk also works as a flying disk! Ages 4+                 
CONSTRUCTIVE PLAY
Modarri Surf & Turf Combo: Meet the new Beach Cruzer and Camo Car from Modarri/Thoughtfull Toys, Inc. Each modular car of the Modarri Surf & Turf Combo has interchangeable parts, real suspension and steering. You can literally feel the road! Ages 8-108
CREATIVE ARTS PLAY
Craft-tastic Yarn Tree Kit: Wrap it. Display it. Love it. The Craft-tastic Yarn Tree Kit from Ann Williams Group is perfect for hanging jewelry…or use as a decorative accent piece.  Wrap the 18″ wire tree with yarn, then bend it into the shape you want. Kit includes an assortment of colorful yarn. Ages 8+
3D PlushCraft® Puppy:: It's im-paw-sible not to love this 3D Plushcraft® Puppy from The Orb Factory. Use the stylus to punch fabric pieces and match colors to create an adorable plushy pal.  Mess-free, it's totally intuitive and has perfect results every time.  Includes instructions, 1 puppy figure, stylus and colorful fabric pieces. Ages 5+
EARLY PLAY
Rolligo: Push it, pull it, roll it, GO! Surprisingly simple yet endlessly entertaining, Rolligo by Fat Brain Toy Co. is a sensory adventure! 10 multi-colored spheres easily stack in a rack that spins in all directions. Push it forward, back, sideways—any which way. Encourages motor skills and sensory exploration. Ages 12 months+
GAME PLAY: 3-5 YEARS
Super Genius – First Words: Super Genius—First Words by Blue Orange Games is a matching game that features fun with early reading concepts! Any two cards have a match between a word and its image, two images or two words. Developed in consultation with early learning professionals.   Ages 5+    
Three Little Piggies: Help three pigs build their houses and stay safe! Inspired by the beloved story, Three Little Piggies by Smart Toys and Games features 3 easy-to-hold puzzle pieces, a story book with images and a booklet with 48 challenges. Or skip the game and use the pieces for imaginative play! Ages 3-6            
GAME PLAY: 6+ YEARS
Bugs in the Kitchen: Ugh! Bugs in the Kitchen! Roll the die and move pieces on this 3-D maze board by Ravensburger USA Inc. to trap the creepy crawly Hexbug® nano® before your opponent does. Get the bug first and win; leave it loose and go buggy in this fast-action game of extermination! Ages 6+   
Laser Maze Jr.:  ThinkFun does it again with Science Logic Maze for Juniors! Use science and logic to get the laser beam to the rockets so they can safely return to earth!   It's a tricky job, but your brain power will get it done. One mission completed and 39 more to go! Ages 6+                  
GAME PLAY: 8+ YEARS
Bellz Magnetic Game: Bellz Magnetic Game by Wiggles 3D is deceptively simple and wonderfully challenging. Open the travel pouch with 40 bells in 4 colors and 3 sizes. Use the dual-powered magnet wand to pick up bells of only one color. The first player to collect 10 bells of one color wins! Ages 6+                       
PRETEND: DOLL PLAY
Mon Premier Bébé Calin Ballerina: The ideal first baby doll for the littlest mommies! Dressed in a pink tutu and ballet slippers, Mon Premier Bébé Calin Ballerina byCorolle Dolls will pirouette into little girl's hearts!  12 inches tall with a cuddly soft beanbag body and supple vinyl skin. Ages 18 months+           
PRETEND: ROLE PLAY
Kidoozie Pop-Up Theater Tent Toy: Unleash your child's imagination with this easy-to-assemble theater tent by International Playthings that has enough room for two or more little performers.  Use puppets, dolls or do a stand-up routine!  Made of a sturdy material to withstand heavy play. Carry case included. Puppets not included. Ages 3+  
PRETEND: FANTASY PLAY
Folkmanis® Winged Dragon Puppet: Fantasy play just got more entertaining with the Folkmanis® Winged Dragon Puppet. Fierce and bold, this green flying reptile is a handful of fun. Create your own fairytale animating the mouth and wings of this magical beast. Ages 3+
SCIENTIFIC PLAY
Snap Circuits Arcade: Explore science, technology, engineering, and mathematical (STEM) concepts with Snap Circuits Arcade by ELENCO. Learn about electricity, engineering and circuitry with easy-to-follow instructions. Use 30 components to complete over 200 projects, including an internal Microcontroller pre-programmed with interactive games, a tri-color light orb and a dual LED display. Ages 8+
Buying through Amazon.com? Shipping is FREE with Amazon Prime or $35+ order. Sign up for a FREE 30-Day Amazon Prime Trial HERE. Along with FREE shipping you will get access to thousands of movies, tv shows and books for FREE!
To find a neighborhood toy store near you, please visit http://www.astratoy.org/best-toys-for-kids.asp.